Sri Lanka's president urges Tamil voters to trust him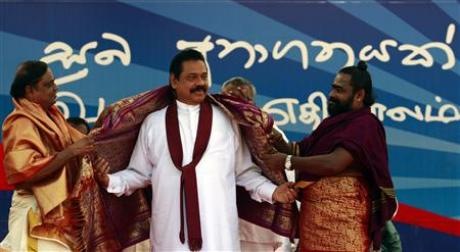 Sri Lankan President Mahinda Rajapaksa on Thursday promised voters in the minority Tamil city of Jaffna a role in solving their own problems in his second visit since the end of a three-decade civil war in May.
Voters in Jaffna and other Tamil areas roundly rejected Rajapaksa, who led Sri Lanka's victory over the Liberation Tigers of Tamil Eelam and their 25-year-separatist war, at a presidential poll in January at which he secured a second six-year term.
The president's United Peoples Freedom Alliance (UPFA) is campaigning for parliamentary polls on April 8, at which Rajapaksa hopes to secure a two-thirds majority to give him the votes to change the constitution to his liking.
"We should get rid of the ethnic thinking and should not be racists," Rajapaksa said. "We will be able to solve the issues in the north through the people's participation councils by giving the opportunity to the people to address issues by themselves."
Rajapaksa was addressing a small crowd in the stadium in Jaffna, at the Indian Ocean island's northernmost tip. Although the president's party is expected to secure a majority in parliament, he is unlikely get many Tamil votes.
"Let's have a bright future," he said. "Trust me as I trust you."
Rajapaksa used the Sinhala words jana sabha, a reference to local councils which have had a role in Sri Lankan governance in the past. In general, the citizen panels advised elected bodies like the provincial and city councils.
A core goal of the Tamil Tigers and other Tamil political groups has been devolution of power from the central government in Colombo, which has been dominated by the Sinhalese ethnic majority since independence from Britain in 1948.
The Tigers led one of Asia's longest-running wars in an attempt to create a separate state in Sri Lanka's north and east for Tamils.
Asked if the president was talking about some kind of devolution, a senior official in the president's office said it was not clear yet what shape the people's councils would take, nor how they would be funded.
Soldiers did not permit journalists who attended the rally to speak to voters after the president spoke.
"I'm afraid that Mahinda will take revenge on us for not voting for him at the presidential elections," a 41-year-old state employee who identified herself only as Priya told Reuters on the streets of Jaffna.
Jaffna is considered the center of Sri Lanka's Tamil culture, but the war has left it in ruins. It has only now begun to show signs of new life after 15 years under heavy guard by troops fending off ceaseless Tiger attempts to retake it.
(For updates you can share with your friends, follow TNN on Facebook, Twitter and Google+)