Rwandan genocidaire leads middle-class life in Alabama
ean Damascene Bizimana, 56, a Rwandan politician, wanted for his alleged role in the Rwandan Genocide, with a pending warrant for arrest against him by the International Criminal Tribunal for Rwanda (ICTR), has been discovered leading a middle-class life as an American citizen in the small town of Opelika, Alabama, David L. Bosco, a professor at the American University, Washington D.C. reported in the weekend Washington Post. Bizimana was Rwanda's UN Ambassador at the time when the assassination of Rwanda's president unleashed a horrific three-month genocide that would ultimately kill 800,000 people.
WP: Rwanda's Bizimana located in Alabama
Rwanda held one of the ten rotating seats at the UN Security Council, and Bizimana occupied the coveted seat, for the council's private deliberations. Bizimana, assuring fellow diplomats that the "violence" was due to spontaneous public outrage over the president's death, voted against an arms embargo on Rwanda that every other member of the council supported, the paper reported.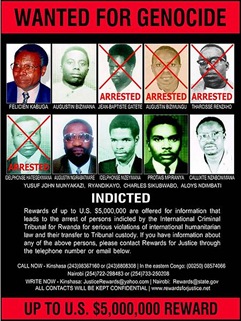 Former British ambassador  David Hannay, recounted, the paper said, that as "direct responsibility for the mounting deaths became increasingly clear, Bizimana spoke out less and less. He became a "sullen and mostly silent" figure at Security Council meetings, and he "never showed the slightest sign of remorse about what was going on in his country."
Canadian Gen. Romeo Dallaire, who was dispatched to Rwanda in 1993 as commander of a small U.N. peacekeeping force charged with safeguarding a cease-fire between the government and the rebels, is convinced that Bizimana was tied to the extremist circles that planned the mass killings, according Bosco's report.
"He [Dallaire] is particularly bitter that Bizimana knew more about the Security Council's decisions than he did. "There I was with my small team of intelligence officers who were risking their lives for crumbs of information," Dallaire wrote, "while the extremists had a direct pipeline to the kind of strategic intelligence that allowed them to shadow my every move," Bosco notes.
"If Bizimana was indeed in constant contact with his superiors in Kigali, his message would have been simple: The Security Council had no will to intervene," Bosco comments.
Years later, some of the world's powers expressed regret for their inaction. In March 1998, during a visit to Rwanda, President Bill Clinton acknowledged that "we in the United States and the world community did not do as much as we could have and should have done to try to limit what occurred." And just a few weeks ago, President Nicolas Sarkozy of France admitted his country's "serious errors of judgment" during the genocide, the report adds.
"Perversely, his [Bizmana's] most likely path to citizenship was through political asylum. U.S. law protects individuals with a well-founded fear of persecution in their home countries by allowing them to become permanent residents, thus opening a path to citizenship. (Rwanda's ambassador in Washington during the genocide, Aloys Uwimana, took that route.) Asylum proceedings are not public, so it is difficult to know whether Bizimana applied. Still, with the new government threatening to arrest him back in 1994, he would have had little difficulty showing that his life would be in danger in Rwanda," Bosco writes.
Bosco adds, "if he did seek asylum, Bizimana must have artfully minimized his official role in representing genocidal authorities."
"That Bizimana is able to lead a middle-class life while the ICTR arrest warrant is pending, and while the the U.S. Genocide Accountability Act, enacted in 2007 especially to prevent war-criminals from seeking asylum in U.S., is active, is terribly shocking," a spokesperson for US-based activist group, Tamils Against Genocide (TAG) said.
"TAG commends Prof. David Bosco's effort to locate the alleged war-criminal, and hopes the US law enforcement investigates Bizimana's complicity in Rwandan Genocide in US Courts of law," spokesperson added.
The GAA expands criminal liability for participation in acts of genocide committed outside of the United States to persons not covered by current [U.S.] criminal law.
A White House press release commented on the GAA: "Prior to passage of the Act, the ability of the United States to prosecute persons accused of genocide was limited to U.S. nationals or persons who committed genocide on U.S. territory. Now it includes, among other categories of persons, an "alleged offender [who] is brought into, or found in, the United States, even if that conduct occurred outside the United States.""
(For updates you can share with your friends, follow TNN on Facebook, Twitter and Google+)