Rajapaksas out in force for Sri Lanka election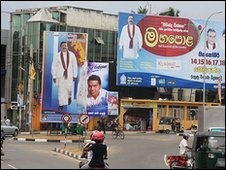 Sri Lankan President Mahinda Rajapaksa hopes his governing coalition will score a clear victory in Thursday's legislative elections. He also hopes two of his brothers, his cousin and his eldest son, Namal, will win or regain places in parliament. The BBC's Charles Haviland reports from the Rajapaksa heartland in Southern Province.
By a huge banyan tree in the town of Tangalle, Namal Rajapaksa is meeting the people outside the family home.
A crowd clusters around the 23-year-old candidate and presidential son. Each person seems anxious to tell him their problem. They clutch school admission certificates and town council documents.
Namal is young but is already being groomed for great political things.
"I've come to Namal for help in rebuilding our temple which was ruined by the tsunami," says an orange-robed Buddhist monk. "Namal seems to do a lot for the people."
A woman holds her young disabled boy in her arms. She needs funds to treat him.
"He can't speak or walk. I felt Namal would help us because he loves kids. I'm confident he will help me."
One armed soldier is on the parapet just above. Namal, however, listens to the people, promises action – and nuzzles the babies' cheeks.
The Rajapaksas are Sri Lanka's first family. There have been other political families in this subcontinent, and this country – including the Bandaranaikes, who supplied two prime ministers and a president.
But the Rajapaksas' involvement in politics is especially broad. The President, Mahinda, has three of his brothers in top positions.
Among the Sinhalese majority, Mahinda and the defence secretary, Gotabhaya, are highly popular for last year's military victory over the Tamil Tiger separatists.
That popularity has been only slightly dented by the government locking up the former army chief and losing presidential candidate, Sarath Fonseka.
Just outside Tangalle, near a wild and beautiful beach, I meet Kumarini Wickramasuriya.
Her charity for disabled people is in the same building where the president first had an office as a 24-year-old MP. She has known the Rajapaksas for years.
"They are very stable, very people-friendly and approachable and work at grassroot level," she says. "I think Namal also has those qualities in him. And we hope that he will be able to mingle with the people. We see that happening."
Driving in the rain through this lush countryside, almost entirely Sinhalese-inhabited, I see Rajapaksa posters everywhere. There are huge images of Namal. There are also his genially smiling uncle, Chamal, and a cousin, Nirupama – both also candidates here.
There are cardboard cut-outs of the president, 10 metres tall, pointing towards pictures of his son as if to say "this is the man of the future".
'Dictator'
In a glade we meet politicians from the main opposition United National Party. They are hard to find, their posters few.
One, Dilip Wedaarachchi, says they have had difficulty campaigning and that the police have sided entirely with the president's family. He calls Mr Rajapaksa a "dictator".
"The family is trying to rule this [part of southern Sri Lanka] – his wife, brother, sons, aunties, everyone is trying to rule this place," he said.
"They're not leaving room for others to come forward and rule the country."
Another is Sajith Premadasa whose father, Ranasinghe, was Sri Lanka's president and was assassinated by the Tamil Tigers.
He is measured in his remarks, stressing that most of the Rajapaksas are popularly elected.
"Of course there is a monopolisation and a concentration of power in the hands of a few at this present juncture," he says.
"People should realise that and recognise that."
Recently, state television showed a huge music and dance extravaganza in Colombo, with the Rajapaksa brothers and their families in the front row for an event laid on entirely to heap praise on Mahinda and Gotabhaya.
A famous woman singer performed a song billed as a lullaby which a century from now would be sung by mothers to their babies, explaining how "King Mihindu" (a nickname) saved their country from terrorists.
"Long live our king who overcame all the challenges from within and abroad," ran another song as incense wafted around.
This kind of trend prompts sharply differing reactions.
One man said the president wanted to "be the king in the country for the rest of his life. By doing that he has let down everybody else in the country".
Another described the Rajapaksa family as "heroes" for bringing peace.
"I don't agree with the fact that our people treat them like kings, but it's just the nature of Sri Lankans to put them on a pedestal."
Back in Tangalle, Namal Rajapaksa finishes his street meetings and warmly invites us into his home. There are no security checks on us and we sit in the hallway for a chat. He denies being part of yet another typical South Asian political dynasty.
"This is the 21st Century," he says. "People are more educated now. I don't think family politics will play a role. As long as you work, you be with the people… you love the country, you will be elected.
"It's a matter of who you are, not what you are."
We are ushered in for an audience with the president himself, who is sitting in a small study. He is completely informal. We chat, though largely off-the-record. He does not look at his watch.
Namal Rajapaksa tells us he is still referred to as Mahinda Rajapaksa's son. But he hopes Mahinda will one day be known as Namal Rajapaksa's father.
(For updates you can share with your friends, follow TNN on Facebook, Twitter and Google+)