Fears of Rajapaksa dynasty as Sri Lanka votes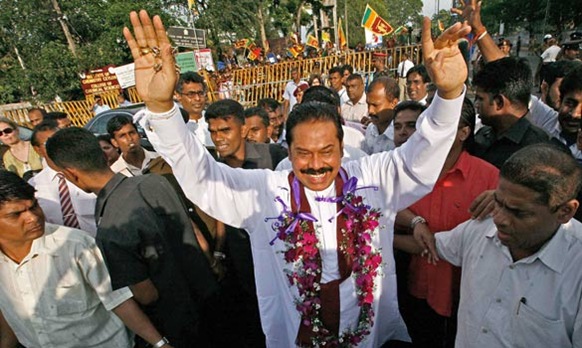 by Jeremy Page
Almost a year after the defeat of the Tamil Tigers, Sri Lanka votes today in parliamentary elections that could expand President Rajapaksa's already vast powers, extend his rule beyond 2017, and lay the ground for a dynastic succession.
Mr Rajapaksa's ruling coalition is sure to win the poll, with the opposition in disarray after the arrest in February of General Sarath Fonseka, the former army chief who was runner-up in a presidential election in January.
The only question is whether the United People's Freedom Alliance can attain its goal of winning a two-thirds majority, allowing it to make changes to the constitution that could include prolonging Mr Rajapaksa's rule beyond the end of his second term in 2017.
The coalition holds 128 seats in the outgoing 225-member parliament, but is expected to increase that number either by winning more seats in the election or persuading elected MPs to cross over after the poll.
"We must remember that terrorism is over, and only a strong parliament can carry development forward and unite the communities," Mr Rajapaksa told state television today after casting his vote in his home village.
Mr Rajapaksa promises to use a fresh parliamentary mandate to kickstart the island's economy – especially the tourism sector – and address the ethnic Tamil minority's demands for greater autonomy, which sparked the 26-year civil war.
But opposition leaders, human rights groups and many Western officials fear the election will push South Asia's oldest democracy one step closer to authoritarian rule following the controversial presidential poll.
The Government has deployed 60,000 constables and kept another 20,000 military personnel on alert to deal with any major outbreak of violence during the nine-hour voting period.
Yet independent election monitors still reported dozens of incidents of violence and intimidation – mostly blamed on Mr Rajapksa's supporters – and said that some Tamils displaced by the war could not vote because of a lack of public transport.
"Pro-government supporters are reported to have intimidated voters," D.M. Dissanayake, a spokesman for the Centre for Monitoring Election Violence, said..
Critics say that Mr Rajapaksa appears to be planning to extend his own rule, and then to hand power to his son, Namal, who is standing in today's election after graduating from London's City University last year.
They point out that dozens of other Rajapaksa clan members are already in parliament or government, with one brother serving as a minister, another as a presidential adviser, and a third as the powerful Defence Secretary.
They also accuse Mr Rajapaksa of silencing domestic political opponents and the independent media and extending emergency powers unnecessarily.
General Fonseka, who led the victorious campaign against the Tigers only to fall out with the President and resign from the Army last year, has been permitted to run for a parliamentary seat in the capital, Colombo.
But he is still in custody in Colombo in the midst of a court martial trial on charges of engaging in politics while still army chief, and breaching regulations in purchasing military hardware.
Ranil Wickremesinghe, the former prime minister who heads the largest opposition party, the United National Party, is facing aleadership challenge and party disunity after a series of election losses.
The Tamil National Alliance, a former rebel proxy party that had 22 sats in the outgoing parliament, is also expected to lose ground in the election after splitting following the defeat of the Tigers.
(For updates you can share with your friends, follow TNN on Facebook, Twitter and Google+)