Sri Lankan boat found abandoned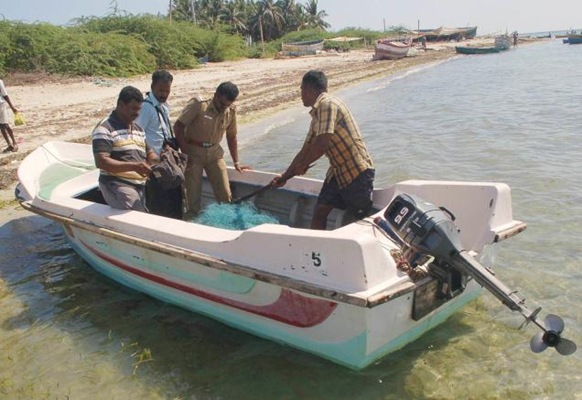 A Sri Lankan boat was found abandoned on the Sherankottai shore near Rameswaram on Wednesday, giving rise to doubts that "some persons" might have landed.
According to security agencies, the boat might have landed between 3 and 3.30 a.m. A few litres of petrol, diesel and two fishing nets were found in it.
Ruling out the possibility of the boat being washed ashore as it was found with an engine, they suspect that three or four persons might have arrived from Sri Lanka and escaped under the cover of darkness.
Superintendent of Police Pradip Kumar told The Hindu that though an enquiry was on to ascertain information about the boat, it appeared that a few persons had reached Rameswaram. If they were refugees, they would have reported at a police station. No one had so far reported at any station in the district.
He said an alert had been sounded along the coastal areas about the incident.
Coastal police, check posts, marine police stations and others were asked to carry out a complete check of vehicles at entry and exit points to nab those who had used the boat.
Commandant D.S. Saini, Commanding Officer, Coast Guard Station, Mandapam, said available information had been shared with all security agencies.
(For updates you can share with your friends, follow TNN on Facebook, Twitter and Google+)