Sri Lankans queue up to elect new parliament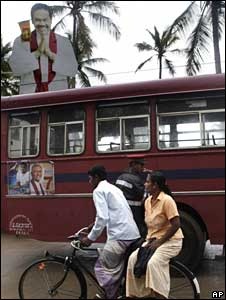 Sri Lankans are voting for a new parliament amid heavy security, months after President Mahinda Rajapaksa was re-elected by a substantial margin.
His government has since then detained his main presidential rival and ex-army chief Sarath Fonseka and the opposition coalition has split up.
But Gen Fonseka is standing in these polls on behalf of a new political alliance despite his incarceration.
Correspondents say the campaign has been marked by low-level violence.
As voters lined up in polling stations throughout country, the president cast his ballot in his home village of Medamulana in the south.
Analysts say he is expected to comfortably triumph over the fractured opposition. Mr Rajapaksa still enjoys much popularity because of last year's crushing defeat of the Tamil Tiger rebels.
The issue of who should take credit for the defeat lies at the heart of the president's rivalry with Gen Fonseka.
The government says it still intends to try Gen Fonseka in a military court on charges of participating in politics while still in uniform and for illicit arms procurement.
Although he is standing in the polls, the biggest opposition party in Sri Lanka has delinked itself from the general, while the main Tamil alliance, which backed him in January, is going it alone in the north and east.
'Vindictive politics'
The BBC's Charles Haviland in Colombo says that the run-up to the elections saw vindictive, personalised politics and constant breaches of electoral rules, causing the election commissioner to express his concerns.
The president has denied opposition complaints that the run-up to the vote has not been free and fair.
Correspondents say that the charges are unlikely to have any major impact on voter intentions, which show a clear preference for the president's United People's Freedom Party.
The president says that reconciliation will come through big development works but his critics say he has failed to reach out meaningfully to minority groups.
Past precedent suggests his coalition is unlikely to get two-thirds of the seats as it would like to do.
But if it does, through the election or by encouraging defections to its ranks, it will be able to change the constitution.
If that happens, Mr Rajapaksa has spoken of adding a second chamber of parliament to accommodate minorities better – but he has ruled out the federalism many Tamil politicians want.
(For updates you can share with your friends, follow TNN on Facebook, Twitter and Google+)