Sri Lanka ruling party ahead in polls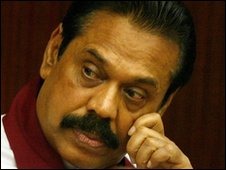 The party of Sri Lanka's President Mahinda Rajapaksa has taken a lead in the country's general election, early results suggest.
But poll monitors say more than half of the war-displaced Tamil population in the north were denied the right to vote on Thursday.
Turnout was low, at about 50%, reports say.
President Mahinda Rajapaksa's main rival, Gen Sarath Fonseka, is standing despite being in jail.
With about a fifth of the votes counted, Mr Rajapaksa's party has taken a lead securing more than 60% of the vote so far.
In his native south, where his popularity is especially high following last year's victory againt Tamil Tiger rebels, he is doing even better, says the BBC's Charles Haviland in Colombo.
The main opposition group is trailing in a distant second place, and the party of Gen Fonseka has only five percent of the vote.
'Resounding endorsement'
Transport Minister Dullas Alahaperuma told AFP news agency that that the early results suggested that the ruling party would able to comfortably form a government of their own.
"This is a resounding endorsement of the programme of the president. We should end up with at least 138 seats [in the 225-member parliament]," he said.
But an independent group, the Campaign for Free and Fair Elections, said the election was not free and fair.
It said a majority of the Tamil refugees in the north had been denied the right to vote because they had not been given clear guidelines on what identification papers to use.
A rerun has been ordered in one central polling division because of thuggery blamed by monitors on a government minister.
If he achieves his aim of a two-thirds majority in parliament – or 150 seats, analysts say that would allow him to change the constitution.
(For updates you can share with your friends, follow TNN on Facebook, Twitter and Google+)