Victory for President Rajapaksa in Sri Lankan parliamentary election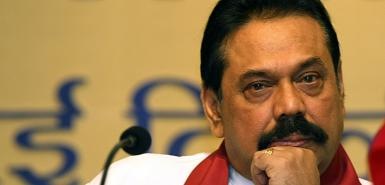 President Rajapaksa's ruling coalition has cruised to victory in a Sri Lankan parliamentary election, enhancing his own vast powers and paving the way to prolong his rule beyond 2017, despite a record low turnout.
Yesterday's election also marked the birth of a new political dynasty in South Asia with Mr Rajapaksa's son, Namal, expected to win his first seat in Parliament after graduating from City University in London last year.
The ruling United People's Freedom Alliance (UPFA) won at least 120 of the 225 seats in Parliament according to incomplete official results from the first legislative poll since the defeat of the Tamil Tiger rebels in May last year.
When final results are announced, the UPFA is expected to fall just short of the two-thirds majority it wanted in order to make changes to the Constitution, including extending Mr Rajapaksa's rule beyond the end of his second term.
But the UPFA, which had 128 seats in the last parliament, may still achieve that goal by persuading elected independent and opposition MPs to join them in exchange for ministerial positions and other favours.
"We may be short of 12 or 13 seats to get two thirds but that will not be a challenge for us," said Dullas Alahapperuma, the Transport Minister who is also a spokesman for the UPFA. "There is no question about the victory."
The emphatic results re-affirmed Mr Rajapaksa's popularity with the Sinhalese ethnic majority — especially in the south — less than three months after he easily won a new term in a controversial presidential election.
But they heightened fears that South Asia's oldest democracy is sliding towards authoritarian rule after the arrest in February of General Sarath Fonseka, the former army chief who was runner-up in the presidential poll.
Mr Rajapaksa says he will use a stronger mandate to kick-start Sri Lanka's economy, especially tourism, and address the root cause of the 26-year civil war — the ethnic Tamil minority's demands for greater autonomy.
Critics, however, accuse him of undermining Sri Lanka's democracy by suppressing all serious domestic political opposition, silencing the independent media, and extending emergency rule unnecessarily following the Tigers' defeat.
They cite the arrest of General Fonseka, who led that victorious military campaign against the Tigers but fell out with the President and is now facing a court martial for entering politics while still in uniform among other charges.
They also fear that the President is concentrating power within his own family, with dozens of relatives in Parliament or Government, including one brother serving as a minister, another as a presidential adviser, and a third as the powerful Defence Secretary.
"Politics is not something strange to me or the other members of the family," Namal Rajapaksa was quoted as saying in a recent interview.
"I don't expect any ministerial portfolio. I am still very young. I have just entered politics. The distance I have travelled is very short and the journey ahead for me is very long."
Election officials said final official results might not come out for several days as a re-poll has been ordered at some polling booths due to violence.
The Centre for Monitoring Election Violence said it asked the elections commissioner to annul results and hold re-votes in 13 polling stations — out of more than 11,000 nationwide — because of reported violence and fraud.
The commissioner has yet to announce the official turnout figure, but independent monitors estimate it at 50 to 55 per cent with some calling that the lowest for any parliamentary elections since the country's independence from Britain in 1948.
"The distinctive feature of this election could turn out to be the turnout," said Paikiasothy Saravanamuttu of the Centre for Policy Alternatives.
"Were it to produce a robust mandate for any one particular party, questions will be raised if that mandate is founded on a low turnout.
(For updates you can share with your friends, follow TNN on Facebook, Twitter and Google+)