Fonseka In Parliament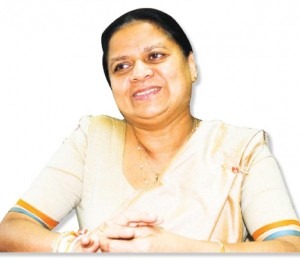 Retired Gen. Sarath Fonseka has won the highest number of preferential votes for the Democratic National Alliance (DNA) in the Colombo District, according to party Chairman Tiran Alles.
"We are getting two seats from Colombo," Alles told The Sunday Leader. "They're still counting, but Gen. Fonseka should receive the highest number of preferential votes."
When asked if Gen. Fonseka would deliver an inaugural speech at the opening of the new parliamentary session on April 22, Alles said that it was up to Gen. Fonseka's lawyers. However, Alles said that Gen. Fonseka's victory will force the government to release him from prison.
"That's what the people want, right?" Alles said. "That's why he has been elected. This alliance was formed just one month back with a new symbol. For people to send six or seven members to parliament demonstrates their confidence in the DNA."
Attorney-at-Law Upul Jayasuriya said that because President Mahinda Rajapaksa has previously stated that anyone elected to parliament is eligible to take their oath of office, there is no obstacle to Gen. Fonseka becoming an MP. Jayasuriya said that under the law Gen. Fonseka will be able to take his oath and attend meetings of parliament, even though he remains in military custody.
However, Army Spokesperson Brigadier Prasad Samarasinghe said that he wasn't sure whether or not Gen. Fonseka would be allowed to attend parliament while in military prison.
"The Army Act doesn't say anything about politics," Samarasinghe said. "You must talk to the Elections Commissioner or the courts."
Earlier last week, Gen. Fonseka's wife Anoma revealed that she warned her two daughters to stay in America out of fear that they would be arrested if they returned to Sri Lanka.
"They want to come home as soon as possible," Mrs. Fonseka said. "But I stopped them because the current situation is too bad. The government could arrest them without any charges under the Emergency Act. If that happened, I couldn't do anything."
Mrs. Fonseka said that her daughters, Aparna and Apsara, last visited the country in January for the presidential election, in which Gen. Fonseka was the opposition candidate. After Gen. Fonseka lost the election to President Mahinda Rajapaksa amidst accusations of voting fraud, Mrs. Fonseka and her husband asked their daughters to return to America. Apsara, the eldest daughter, is working in the state of Oklahoma, while Aparna, the youngest, is still in university in Oklahoma.
"The last time I saw my daughter was at the presidential election," Mrs. Fonseka said. "After the election, the situation changed, so we thought they should go back to America."
Mrs. Fonseka revealed that Gen. Fonseka, who is currently imprisoned at Navy Headquarters in Colombo while facing two courts martial, speaks to his daughters every morning through an internet chat service. She added that Aparna and Apsara are planning to visit Sri Lanka in the summer. If the situation after the general election stabilises, she hopes that Aparna can come sooner than that. Since February 8, Aparna has operated a blog, thissidesrilanka.blogspot.com, where she has written about her father's imprisonment.
At a press conference last week, Mrs. Fonseka defended her husband's request for an air conditioner.
"He needs A/C because of a war injury he received about 15 years ago," Mrs. Fonseka said. "The doctors recommended that we install A/C in our house because my husband needs to be in a sterile environment. They said that he needs pure air, and that he should not breathe any dust. Before this, we didn't have A/C, but upon the doctor's recommendation we got it. My husband currently has a cold and a wheeze."
Mrs. Fonseka also said that she and her husband are suspicious of the government doctor who saw Gen. Fonseka on Monday because he did not give his name. She repeated her request that Gen. Fonseka be allowed to see his own doctor, who is more familiar with his condition. The government doctor, the Senior Chest Physician attached to the chest clinic of the Colombo National Hospital, prescribed medication and recommended an ECG. However, Mrs. Fonseka said that the doctor may have misdiagnosed Gen. Fonseka because he was not familiar with his medical history.
"My husband must refrain from inhaling dust and needs fresh air due to a lung condition that began 15 years ago," Mrs. Fonseka said. "It is not necessarily the tablets that he needs but the breathing space in order to stay healthy. Right now the window in his room does not provide adequate ventilation."
(For updates you can share with your friends, follow TNN on Facebook, Twitter and Google+)