TNA MP: Low turnout reflects Tamils losing faith in political system
Tamil National Alliance (TNA) spokesperson Suresh Premachandran has been quoted by The Island as saying that the very low turnout of Tamils in North and East in the 7th parliamentary elections of Sri Lanka signalled that the Tamil voters were losing faith in the political system. The TNA MP from Jaffna further said that the majority of Tamils who participated in the elections had endorsed the TNA manifesto for the resolution of the conflict and speedy re-settlement of the uprooted civilians.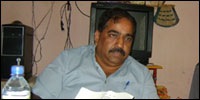 "The reason may be they [Tamils] had lost faith in everybody because they believed nobody would do anything for them," the paper quoted Suresh Premachandran as saying.
The TNA, which won 12 seats of the 225 seat SL parliament, is entitled to an additional seat in the national list.
The leading Tamil alliance received around one third of the votes, compared with the votes it received in the last elections.
In 2004, the alliance polled 633,654 votes and secured 22 seats in the parliament.
Three of its sitting MPs, Joseph Pararajasingham, N. Raviraj and K. Sivanesan have been assassinated since 2006 allegedly by the Sri Lanka Army (SLA) or SLA operated paramilitary operatives.
(For updates you can share with your friends, follow TNN on Facebook, Twitter and Google+)