New party to be launched in Tamil Nadu with Leaping Tiger as its flag
Popular Film Director and Tamil activist S. Seeman has introduced Tiger flag for a new political party "Naam Tamilar" (We are Tamils) Saturday, claiming that the establishment of Tamil Eelam should be the moral goal of Tamils in Tamil Nadu as the leaders of the Indian Union and Tamil Nadu State had betrayed Eezham Tamils. Mr. Seeman has called for a major rally towards Mathurai on 18 May 2010, one year after the military subjugation of Eezham Tamils, marking the day as Black Day of Tamils and has announced that the new party would be inaugurated on that day. The event of introducing the flag took place at Thilagar Thidal of Thanjavur, the historic capital of the Cholas, whose emblem was Tiger.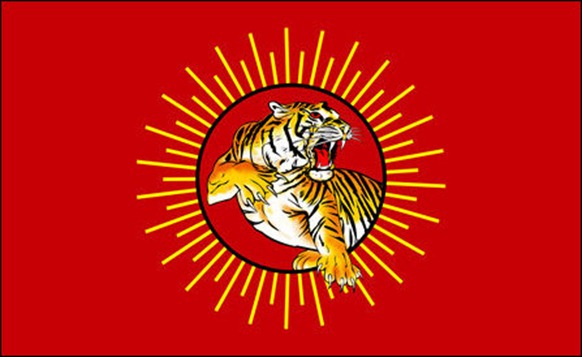 Mr. Seeman claimed that Naam Tamilar would be an alternative political party.
He repeatedly proclaimed that Naam Tamilar would be different and not be sectarian like many other parties with labels of caste and religion. Tamil nationalism is beyond the divides of countries, castes and religions, he said.
Stating that the leaders in his party would not receive Ponnaadai or Thu'ndu (the Tamil Nadu habit of honouring people by presenting a shawl), as those being greeted with such honours have brought disgrace to Tamil politics. "Instead, we will receive books," he said.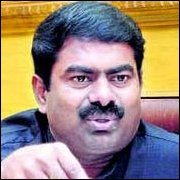 "Tamil Eelam is not homeland to only the Tamils of Eezham. It is the homeland of every Tamil human being in this world," he proclaimed.
When a Peoples Tribunal in Ireland has passed a verdict that Sri Lanka was guilty of War Crimes and that it should be investigated for genocide, why is the state assembly of Tamil Nadu, a state within the Indian Union, is unable to pass a resolution stating that Sri Lanka is guilty of genocide, he questioned.
"18 million Sinhalese may think they have conquered Tamils. We should remember 75 millions are here," he said.
"15 million Sikhs in India have won their rights, but not Tamils in India. Why? Sikhs remain as Sikhs and we are not remaining as Tamils."
In his emotional speech, Seeman said Tamil Nadu has undergone subjugation like no other ethno national state in India.
"Tamils" should rule the state of Tamil Nadu, he proclaimed, adding that the state was not being ruled by "Tamil" leaders, but by "Dravidian" and "Indian" leaders for the past 42-years. [The DMK came to power in 1967]
Stating that the Tiger was the emblem of the Tamil Chola dynasty, Mr. Seeman claimed that he evolved the idea adopting the Tiger flag inheriting it from the Chola dynasty and from his leader "A'n'nan" (elder brother) Pirapaharan.
Extracts from the speech by Seeman follow:
"No leader would come down from the air to save the Tamils. Neither would anyone emerge from the cinema as in the past."
"There is nobody except yourself to fight for your rights. Your liberation is in your hands."
"India wouldn't give you freedom without fighting for it. USA wouldn't come to liberate you. China and Japan wouldn't be useful. The Sinhalese wouldn't give in that easily."
"No state in the world would come to support the creation of Tamil Eelam."
"It is we, Tamils ourselves, who should enforce them all to support the establishment of Tamil Eelam."
"Let me remind you that Tamil Eelam cannot be born without the Indian state supporting it, and that the Indian state wouldn't support it as long as our own Tamil state of Tamil Nadu fails to demand it."
"Tamil Eelam cannot be born by individual Seeman supporting it here. It would not be born by Thirumavalavan supporting it, Vaiko or Nedumaran supporting it."
"Tamil Eelam should be supported by the two parties [DMK, ADMK] ruling Tamil Nadu."
"That is possible only if the leaders of these parties, Karunanidhi and Jeyalalitha are supporting it. But, we know that they would never support it."
"So, what should you do?"
"The state of Tamil Nadu should be ruled by those who could make the Indian state to support the establishment of Tamil Eelam."
"It is the only way."
"The state of Tamil Nadu should be for the Tamils created by the Tamils in year 2016. Until then, we all continue to remain slaves."
"We are not against the sovereignty of the Indian state. But, we will ensure that Tamils rule Tamil Nadu."
(For updates you can share with your friends, follow TNN on Facebook, Twitter and Google+)