SRI LANKA: Uthayakumari, "There'll be no New Year until I find my daughter" – IRIN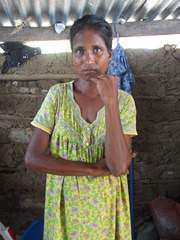 Uthayakumari, 39, lost her husband and a son in fighting between Liberation Tigers of Tamil Eelam (LTTE) and government forces in 2009, and is still searching for her daughter who went missing earlier the same year.
The girl was aged 16 when she was forcibly recruited by the Tigers in 2007. Uthayakumari and her family made an ill-fated decision to stay in LTTE-controlled areas to remain in contact with her.
"People in the country are celebrating the New Year this week. For me, every hour that goes by is an hour of suffering and weeping for the death of my loved ones, and trying to locate my lost daughter.
"They [Tamil Tigers] were on a child-abducting spree – they wanted to expand their ranks. My daughter never wanted to join the LTTE. They abducted her in December 2007 from Kilinochchi town and kept her in their camps on the war front. She was a beautiful child who never liked violence, but the LTTE took her away.
"We were helpless. In those days, the LTTE controlled all these areas [in Kilinochchi], so we couldn't do anything about the abductions.
"We didn't want to leave the war zone because our daughter was held by the LTTE. I didn't feel it was right for our family to run away, leaving her. As the war and LTTE moved from Kilinochchi to Mullaitivu areas, we also moved with the LTTE.
"Later on, in April 2009, we decided we had to leave as the war became unbearable. A lot of shelling was going on.
"While we were fleeing Mullaitivu to government-controlled areas, a shell fell between my husband and my son. They both died on the spot; I saw my husband's body being torn into pieces. I was very near to them. My spirit died that day, and I'm now living like a dead person.
"Soon after the last New Year, I lost the people I loved the most. How can I celebrate another New Year? Nothing feels new or fresh to me.
"I have contacted the authorities to find my daughter. I cannot locate her at all. Please help me to find my daughter. Many LTTE-abducted children were rehabilitated and released by the government, but my child was not on any of those lists .
(For updates you can share with your friends, follow TNN on Facebook, Twitter and Google+)