Seeman launches party flag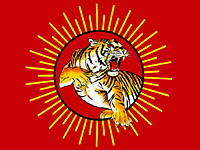 Director Seeman launched the flag of his political party on Saturday ahead of party's official launch on May 18. The flag is in red with a leaping tiger at the centre. Seeman introduced the flag at Thilagar Thidal of Thanjavur, the historic capital of the Cholas, whose emblem was Tiger.
Seeman at present is running a social movement called 'Naam Thamizhar' (We Tamils) as a social organization. He will be converting it into a political organisation on May 18. Seeman has called for a major rally towards Madurai on 18 May 2010 marking the day as Black Day of Tamils and has said that the new party would be inaugurated on that day.
Seeman said his organization will take up the causes abandoned by the Dravidian parties over the years on their way to attain power.
(For updates you can share with your friends, follow TNN on Facebook, Twitter and Google+)