Sri Lanka war wounded face long fight to recovery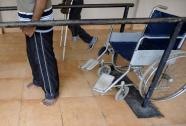 Sri Lanka's leaders have hailed the end of the island's long civil war as the start of a new era, but for soldiers injured in battle, the future is far from rosy.
In a hospital outside the capital Colombo, Manju Lakshman, 32, lies on a bed staring at the ceiling.
He was shot in the spine by Tamil Tiger rebels one year ago in the last weeks of fighting in the northeast of Sri Lanka as the military offensive reached its climax along the coastal Mullaittivu district.
His wounds have left him a paraplegic, unable to move his legs or the lower part of his body.
"Sometimes, the day never ends. It's very frustrating to keep the mind occupied lying still," he told AFP.
Nearly 30,000 government troops were injured and 6,200 killed during the last three years of Sri Lanka's decades-long war with the separatist Tamil Tigers.
Among of those injured, many lost limbs, eyes or their hearing, and more than 300 troops were left with severe paralysis.
Surrounded by paddy fields and jungle, the army rehabilitation hospital in Ragama cares for 172 soldiers trying to overcome their disabilities and to re-build their shattered lives.
Those fitted with artificial limbs spend their days in the swimming pool, playing board games or watching television between treatments. The patients also have their own musical group that practises in the evenings.
Senior army officers drop in on inspection tours, while local charities, companies, schools and individuals also visit patients to donate food and medical equipment.
But time lags for the bed-ridden patients, who watch video clips on their mobile phones and rely on fellow patients to read out newspapers and magazines.
"We look forward to family visits," said U. B. Abeysinghe, 28, who is paralysed from his waist downwards, after his vehicle hit a roadside mine in 2008.
"Families bring us news about home, a little food we like to eat and some small presents like clothes or toiletries," said Abeysinghe as his visiting mother fed him a home-cooked rice and curry lunch.
With limited job prospects for rural youth, a military career in Sri Lanka offers adventure and a decent monthly salary.
Around 80,000 men and women joined the army during the past two years, according to military figures, boosted by major military victories.
"The military is an escape route from poverty. They look after us, our families, even if we are dead," said soldier Ananda Tennakoon, 40, who lost his right leg to a landmine in the northern town of Vavuniya in 1991.
Family members of the dead or missing are immediately paid between 750 and 1,200 dollars through an insurance payout. Thereafter the soldier's salary is paid to his next of kin for life.
Those injured get an insurance payout, plus a monthly salary, allowances and a pension. But it is still not enough to cover the prohibitive costs of specialised medical treatment.
"I'm told a specialised wheelchair costs about 10 million rupees (90,000 dollars) and no local organisation here makes such equipment," said Lakshman.
Chandra Kumara, 26, is a quadriplegic — paralysed in both arms and both legs — and dreams of one day having a brain-controlled device to give him back some degree of independence.
He believes his injuries were compounded by the rough handling of soldiers and delays to reach hospital after being shot in the spine during a firefight.
Sri Lanka's army chief Jagath Jayasuriya said looking after severely disabled soldiers was one of the military's top priorities.
"Their families are too poor to care for them. It is our responsibility to care for these war heroes throughout their life," Jayasuriya told AFP.
Sri Lanka raised its record 1.6 billion dollar defence budget for 2008 by 20 percent last October, to recruit more troops and pay for hardware, medical supplies and compensate those who were injured or died in combat.
Jayasuriya admits the extra cash is insufficient to pay for specialised medical treatment that hundreds of his men need. The army is now on a fund-raising drive to raise 10 million dollars for hospices for quadriplegics.
But the first of the four facilities, which will be ready in about two years, can only accommodate 25 patients, Jayasuriya said.
"I admit, that's not good enough," he said. "We need much more money and effort to improve their quality of life. At least it is a start."
Until he secures a place at the hospice, Captain Danushka Perera, 33, will spend his days at the Ragama hospital.
(For updates you can share with your friends, follow TNN on Facebook, Twitter and Google+)