At UN, Sri Lanka Gets $3M from Ban, Fixes Panel and Pushes Its Troops, Protests and New School DPR
As the UN's Ban Ki-moon talks about but has yet to establish a group of experts to advise him on war crimes in Sri Lanka, he quietly decided earlier this year to give $3 million in UN funds to government approved projects.
On April 13, Inner City asked German Ambassador Peter Wittig, Chairman of the UN Commission, about the UN's $3 million grant, and whether the war crimes, reconciliation and other issues mentioned by Secretary General were taken into account.
Ambassador Wittig referred the question to a Peacebuilding Support Office staff James Otobo, who confirmed that it was the Secretary General, ultimately, who declared Sri Lanka eligible for the funds and disbursed them. He said "we were torn" because there are "still some of the issues you talked about." But were or are there any safeguards?
Likewise, what safeguards are there as the UN uses, and Sri Lanka now offers more, soldiers for UN peacekeeping missions, including many who served in the final phase of the war in northern Sri Lanka? Inner City Press asked on April 5
Inner City Press: the Government of Sri Lanka has said that it's gonna up its contribution to UN peacekeeping from the current 950 to 5,000 troops. Since the Secretary-General has said there are these open questions about accountability for the conflict there, one, has DPKO agreed to this five-fold increase? And two, what safeguards are in place to make sure that the troops that may have engaged in crimes of war don't become peacekeepers?
Deputy Spokesperson: This is a report that I am hearing about for the first time. DPKO, I am sure, is listening, and I am sure they will get back to us with an answer.
And later, surprisingly, they did:
Subject: Answer to your question on Sri Lanka offer to increase its contribution to UN peacekeeping
From: DPKO @un.org
To: Inner City Press
Dear Matthew, Kindly find hereby the answer to your question on Sri Lanka's offer to increase five-fold its contribution to UN peacekeeping: Does DPKO accept this offer?
Are there safeguards in place, considering concerns about human rights in Sri Lanka?:
"Sri Lanka has been a regular contributor to peacekeeping operations. It has a battalion in United Nations Stabilization Mission in Haiti (MINUSTAH), since 2004. Recently, Sri Lanka has also deployed an aero-medical evacuation team to the United Nations mission in the Central African Republic and Chad (MINURCAT) and is yet to send a second aero-medical evacuation team to the same mission. Sri Lanka has shown interest in contributing additional forces to various missions like United Nations Interim Force in Lebanon (UNIFIL) and any future missions. But offers have not yet been accepted. In this case, like in various other cases, the danger of soldiers accused of human rights violations being part of contingents put at the disposal of the UN peacekeeping does exists. The UN has no means of vetting individual contingent members. The UN rely on the national government authorities to ensure that such elements are not deployed. This aspect will furthermore be highlighted to the national authorities prior the future deployment of their contingents to the various UN peacekeeping missions".
As the UN doles out $3 million to Sri Lanka, and prepares to give more for unvetted peacekeeepers, Inner City Press hears that the country's Attorney General has come to meet with Team Ban, to put in the fix on the advisory committee. Still, nothing has been announced.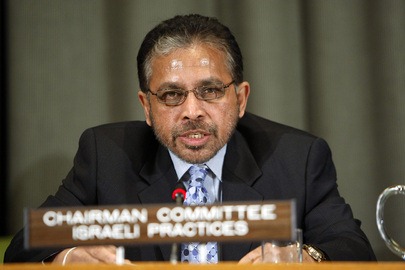 Sri Lanka's Perm Rep Kohona on Israel, DRPS and fish balls not shown
Rather, on April 16 students from schools in more than three states protested in front of the Sri Lankan Mission, on Third Avenue by the UN, demanding justice for J.S. Tissainayagam. No one deigned to come down from the Mission office to address the students.
But, on April 19, Sri Lanka's Permanent Representative to the UN Palitha Kohona invited Inner City Press and others to his 38th floor residence, to meet his new deputy Bandula Jayasekara. Present were DPRs from South Korea and Norway — Mona Juul, perhaps out of penance — and a contingent from Japan.
Bandula Jayasekara came three weeks ago from Toronto, and already spoke out in favor of Israel leaving its Occupied Territories. Some saw the irony, but Bandula Jayasekara told Inner City Press he is a "new school" diplomat, nothing off the record, nothing that can't be asked about. How about the popular musician MIA? "She's not popular," he answered, adding "we all have our jobs and should all have fun." The dead don't find it so funny. What was that again, that Ban Ki-moon said about accountability? Watch this site.
(For updates you can share with your friends, follow TNN on Facebook, Twitter and Google+)