As Sri Lanka AG Met With UN's Ban, War Crimes Panel Unnamed for Six Weeks
The UN's Ban Ki-moon has yet to name the panel of experts to advise him on accountability and war crimes in Sri Lanka which he announced six weeks ago as coming "without delay."
  To determine what happened, Inner City Press on April 22 asked Ban's spokesman Martin Nesirky to confirm Ban met with Sri Lanka's attorney general Mohan Peiris — which Inner City Press exclusively reported three days ago — and to explain the delay. Video here, at end.
Nesirky, who earlier in the briefing tried to ensure that Inner City Press could not ask more questions, said he would look into it. Later on April 22 his Office confirmed that meeting with Sri Lanka's attorney general. He did not, however, explain the delay.
At a UN reception thrown by Israel on April 20, Ban told Sri Lanka's Ambassador Palitha Kohona "I am not against your government," according to sources standing next to the two. Kohona has predicted that no panel will ever be named, quipping that the UN should instead investigate the Vatican for pedophilia.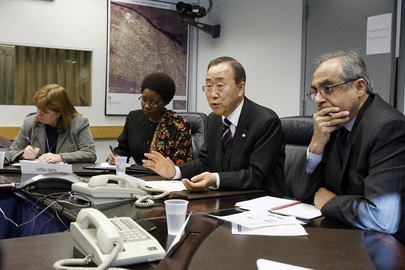 UN's Ban and NAMbiar, six week delay on panel not shown
  Kohona to his credit is one of the more candid UN ambassador. Inner City Press has committed to try to write a non-conflict story, perhaps about the government's Memoranda of Understanding with non-governmental organizations.
Among Ambassador Kohona's honesties, reflecting the combativenature of his government, was his statement this week that Sri Lanka advocated against Ban Ki-moon's $3 million grant through the UN Peacebuilding Fund, which Kohona said went to UNDP. But UNDP still took it — typical UN system arrogance, going for the money (but weak on human rights).
(For updates you can share with your friends, follow TNN on Facebook, Twitter and Google+)