Tamils protest Amitabh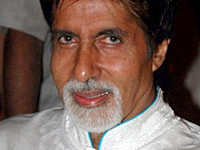 Tamil groups from India and around the world are not happy with the decision of IIFA to conduct the awards ceremony in Colombo this year. And their vociferous opposition is now spilling over Amitabh Bachchan as well for he is the brand ambassador of IIFA.
Amitabh Bachchan was in Sri Lanka last week to promote The IIFA film festival in Colombo scheduled to happen from June 3 to 5 at the invitation of the Rajapaksa government. Amitabh Bachchan also met the president of Sri Lanka. Amitabh also extended invitations to popular Tamil film personalities to attend the festival in Sri Lanka. This has irked pro-Tamil groups around the world.
Director Seeman, a well known sympathiser of the Tamil causes had threatened to picket the house of Amitabh Bachchan in Mumbai. Seeman also said the films of Amitabh, his son Abhishek, and daughter-in-law Aishwarya's will be boycotted in Tamil Nadu.
Meanwhile, Seeman 'Naam Thamizhar Iyakkam' activist staged a protest marching from his Pratiksha bungalow to his Jalsa residence in Mumbai on Sunday insisted on him to boycott the Colombo awards ceremony.
Writing about this in blog Amitabh has said, "A Tamil group picketed my houses, asking me to not conduct IIFA in Sri Lanka. I beckoned personnel from Wiz (Wizcraft) who own and conduct IIFA, to come and meet me to discuss this matter and give it due importance,"
Also the Canadian Tamil Congress has said in a statement, "Amitabh is a great hero for us in the Tamil diaspora, but we are very disturbed and profoundly saddened by our hero's proposed visit to a regime which has perpetrated crimes against Tamils. By visiting Sri Lanka, Amitabh will be lending credibility to a regime which has destroyed Tamils ruthlessly and committed horrendous human rights violations."
Amitabh also said "The sentiments of all must be respected and I hope that we can plan and execute that with understanding, peace and grace."
(For updates you can share with your friends, follow TNN on Facebook, Twitter and Google+)