Tamils Vote For Independence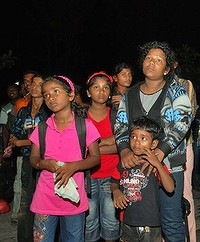 Results from last weekend's referendum by Australia's Sri Lankan Tamil population have given almost unanimous support for the proposal for an independent Tamil homeland in Sri Lanka. The vote by Australian Sri Lankan Tamils follows those in seven other countries, including Canada and Britain, each of which have produced a 99 per cent vote in favour of Tamil independence.
The vote might seem redundant, following the defeat of the Liberation Tigers of Tamil Eelam (LTTE) in a bloody, dirty war in Sri Lanka that ended in May 2009. However, Sri Lanka's large Tamil diaspora have long played a critical role in the lives of Sri Lankan Tamils, not least in actively supporting the more than three decade long struggle for independence.
Many people in the Tamil diaspora fled Sri Lanka after the violent anti-Tamil riots that erupted in Colombo in July 1983, and spread to other parts of the island. In those riots Tamils were systematically targeted, and their homes and businesses destroyed. An estimated 3000 people were killed, and thousands more fled to safety in other countries.
Sri Lankan Tamils had already started to leave the country before the 1983 anti-Tamil riots, seeking better lives elsewhere because they could see that opportunities in Sri Lanka were restricted for Tamils. However, after the 1983 riots, Tamils in Sri Lanka felt they could never live safely there; violent unpredictable mobs might again turn against them. So they left in increasing numbers, and continue to leave today because of discrimination and persecution.
These people – the Tamil diaspora – moved to India, Australia, Europe, Canada, the US and other countries, wherever they were accepted and could live safely. They established new lives, but still kept contact with relatives and friends in Sri Lanka, and continued involvement with Sri Lanka in many ways. Many still feel a strong emotional attachment to their homeland.
The view of the Tamil diaspora is that they need to press for and represent Tamil claims, because Tamils in Sri Lanka have lost their voice, and have no representation following the defeat of the LTTE at the hands of the Sri Lankan army in May last year. The very low voter turnout rate in Tamil areas in the recent elections in Sri Lanka confirms the view that Tamils in Sri Lanka have no faith in the political processes there.
The vote taken in Australia, and elsewhere, was to reaffirm the 1976 Vaddukoddai Resolution (VKR) in which Tamil political leaders were given a unanimous mandate to call for the "restoration and reconstitution of the free state of Tamil Eelam based on the right to self-determination".
The passing of the Vaddukoddai Resolution in 1976 marked a turning point in the Sri Lankan Tamils' struggle to have their grievances addressed. It gave a mandate for Tamil groups to push for a separate Tamil state, Eelam. In the 1977 elections the Tamil United Liberation Front (TULF) ran on this platform of a separate Tamil state, and won the elections in 18 out of 22 Tamil majority electorates.
The military struggle by the LTTE for a separate Tamil state was based on this mandate. The Sri Lankan Tamil diaspora now seek the involvement of the international community in finding a political settlement to the continuing problems of ethnic marginalisation and persecution that led to the war. Though the war has ended and the LTTE defeated, the Tamil grievances that led to the war have still not been addressed.
The Sri Lankan government, under recently re-elected President Mahinda Rajapaksa, has said it will not countenance a separate state or even a federalist model by way of allowing some degree of Tamil autonomy in Sri Lanka. However, Sri Lanka is coming under increasing pressure to find a durable political solution to Tamil claims, following decades in which Tamils have been legally constituted as Sri Lanka's second class citizens.
(For updates you can share with your friends, follow TNN on Facebook, Twitter and Google+)