Sinhalese language prioritized in the North
 Sri Lanka Army (SLA) and Sri Lanka government are accused of prioritizing Sinhalese language in the name and information boards in the predominantly Tamil areas in the North, by public organizations in Jaffna peninsula. Tamil language which had occupied the first place in the name boards and government information boards in the North has been brought down to second place by SLA and government, the organizations said. This introduction of Sinhalese as the first language in the North though appears as intended to cater for the Sinhalese people pouring into Jaffna peninsula as tourists the real motive is to impose Sinhala as the main language in the Tamil areas, they added.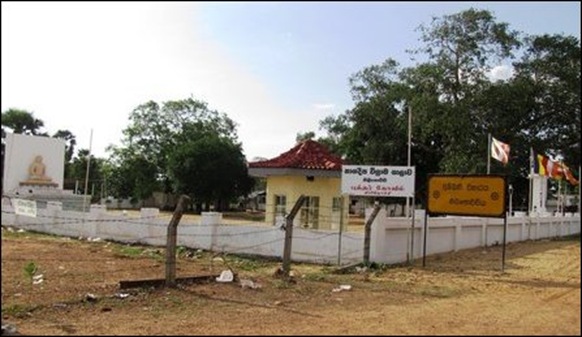 Though many places in Jaffna peninsula destroyed by war need immediate renovation, the government and SLA authorities in Jaffna show interest only in giving Sinhalese language the first place in the street name boards in Jaffna peninsula, placing Tamil in the second position and English in the third.
Meanwhile, the government which continues to announce many development projects in Jaffna peninsula has stopped short with posting names of them in Sinhalese language, the organizations further said.
The name board erected for the newly constructed Buddhist Vihara along A9 road in Ki'linochchi which initially was in Sinhala had been hurriedly added with Tamil language as there were many foreigners passing by.
Before the SLA occupation of Jaffna peninsula all the name boards and notice boards of government departments and other public places had Tamil in the first place, Sinhalese in the second followed by English language.
(For updates you can share with your friends, follow TNN on Facebook, Twitter and Google+)