Clear Policy Needed For N.E. Development – The Sunday Leader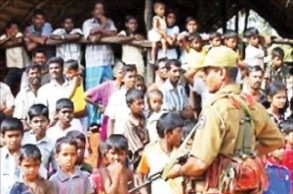 The lack of a clear Government policy for the development of the North-East (N.E.) is a disincentive for investments in that area, a banker said.
Prem Kumar Thampi, Country Head, I.C.I.C.I. Bank, speaking at a seminar in Colombo on Tuesday as an example said that though the Government's Mahinda Chinthana policy document speaks of making Jaffna the best city in South Asia, however it does not spell out how this would be achieved.
The seminar was on North-East development.
The target set forth in the Chinthana to achieve this goal is 2012. Similarly, the target set forth to extend the northern railway line to KKS is next year. It also talks of building 50,000 houses.
"Considering the Government's yawning budget deficit of 9-10% and high public debt (over 80% of g.d.p.), those do not give the State space to play a lead role in infrastructure development," said Thampi.
The way forward is for the private sector to take over, but for that to happen, there needs to be a clear policy spelt out, he said.
Thampi  citing another example said that while the per capita consumption of electricity in Jaffna was Rs. 1,000 a month, in Colombo it was 10 times that figure, at Rs. 10,000; showing the potential for power sector development in the peninsula.
He said that Sri Lanka has been growing at 5% in the past few years, with per capita income also doubling to U.S.$ 2,100 during this short period. There are plans to further double per capita income to U.S.$ 4,000 in the next four years.
For this to happen Sri Lanka has to grow at 10-12%, but this doubling should not take place at the expense of high inflation, with inflation having had hit 28% in recent times, he said.
Youth Unemployment
Dr. Muttukrishan Sarvananthan, Principal Researcher Point Pedro Institute of Development, in his speech said that there is a need to look at the sources and quality of this growth.
He added that Sri Lanka's growth story is fuelled by public sector expansion and pay rise which are unsustainable.
Sarvananthan said that though per capita income in a short period has doubled, so also has public debt, which, within the same short period, has doubled from Rs. 2,000 billion to Rs. 4,000 billion.
Referring to the N.E., he warned that youth unemployment, i.e. those between the ages of 15-29 years, was high as 20%.
Sarvananthan said that the lines of tea kiosks straddling the A 9 highway from Omanthai to Muhamalai and manned by army personnel do not help the local economy to grow. "It's a waste of public resources to run food and beverages."
He further said that the air force operating civilian flights do not help to boost the private aviation sector either. It's better if the air force has a surfeit of planes to sell them off and allow to the private sector to take control of domestic flights to and from the peninsula rather than pushing them out, said Sarvananthan.
A three star hotel is being built by the state run Bank of Ceylon and Merchant Bank of Sri Lanka in Nallur which have no expertise in hotels, whereas the better thing to have had done was to have had called for expressions of interest from local business and the diaspora.
Government is everywhere in the North. They want people to think they are looking after them.
Commercial vehicles plying to Jaffna having to obtain permits encourages corruption.
Sarvananthan who is from Jaffna said that though the A9 is fully open for traffic and people have returned to their places of origin in Wanni and Jaffna, there is hardly any incentive to help the people in the N.E. to stand on their own feet.
Sarvananthan said that neither do remittances nor assistance from n.g.o.s help build a work culture in the North and East either.
He said that the government is expected to have had ploughed in Rs. 200 billion to the N.E.  by the year end. But those are all borrowed money, said Sarvananthan. Whether tangible benefits are seen by such investments is another matter.
The N.E. has been out of government budgets for so many years. But with the war end, and with those areas once more reintegrating with the rest of the country, vast resources would be needed to be allocated for the development of those places.
Former civil servant Bradman Weerakoon in his speech said that while a political solution is imperative for the N.E., one cannot wait till such a solution is found for development works to get started. Development work must go on, he said.
Alienating the locals and bringing in foreign labour (most of the Chinese funded development works are being executed with Chinese labour) is not the way to go, said Weerakoon.
(For updates you can share with your friends, follow TNN on Facebook, Twitter and Google+)