Rights groups welcome pardon for Sri Lanka editor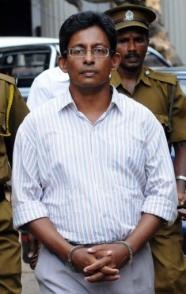 Media rights groups Tuesday welcomed Sri Lanka's decision to pardon a Tamil editor sentenced to 20 years in prison, but urged the government to ensure he was allowed to return to work freely.
Paris-based RSF — Reporters Without Borders — said J. S. Tissainayagam, who wrote about the plight of the minority Tamil ethnic group during the country's 37-year civil war, should be free to practice his profession.
Sri Lanka President Mahinda Rajapakse granted a pardon to Tissainayagam on Monday. He was convicted in August and became the first journalist to be punished under the draconian Prevention of Terrorism Act introduced in 1978.
"Reporters Without Borders urges President Mahinda Rajapakse to ensure that Tissainayagam will now be able to lead a normal life and, in particular, that he will be able to move freely and resume working as a journalist," RSF said.
The New York-based Committee to Protect Journalists (CPJ) said Tissainayagam's lawyers had no prior notice of the presidential pardon and were still trying to get details of the terms of his release.
"We remain concerned about our colleague?s safety while he lives in seclusion in Sri Lanka," said Bob Dietz, CPJ?s Asia program coordinator. "While this (pardon) is potentially very good news, our enthusiasm is muted until the details are made clear."
His sentence of 20 years in jail with hard labour was seized on by critics internationally as an attack on press freedom by the regime of President Rajapakse, which was already under fire for its human rights record
A total of 17 journalists and media employees have been killed in Sri Lanka in the past decade and many local reporters exercise self-censorship to avoid confrontations with the authorities.
US President Barack Obama had cited Tissainayagam, who ran Outreachsl.com website and also wrote for the Colombo-based Sunday Times newspaper, as one of the "emblematic examples" of a persecuted journalist.
(For updates you can share with your friends, follow TNN on Facebook, Twitter and Google+)