Rebuilding Sri Lanka's north: Winners and losers – The Economist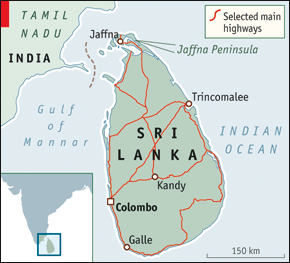 TRAMPLING weeds underfoot, a group of people bound excitedly into an abandoned cemetery for Tamil Tiger rebels, hack bricks off the once pristine tombs and throw them into a waiting van. They are, sighs a local Tamil autorickshaw driver resignedly, "Sinhala tourists"—members of Sri Lanka's ethnic majority, collecting souvenirs to take back home in the south. Since the main north-south highway reopened to civilian traffic in December 2009, thousands of such visitors have been streaming to Sri Lanka's northern peninsula, eager to make up for lost time. Alas, reconstruction and ethnic reconciliation are not following in their wake as quickly as people had hoped.
For much of the past three decades the Tigers were locked in conflict with the government and inessential travel to the north was neither sought nor encouraged. Today, visitors are so numerous that owners of wedding and reception venues are turning their halls into dormitories on days when they are not booked for parties.
Jaffna is bustling. Banks and mobile-phone companies are rushing into a market that one sales manager describes as bursting with potential. A spokesman for an international bank that set up a local branch four months ago says its short-term targets have already been met—perhaps not surprising given that many families are supported by remittances from relatives who fled the fighting and settled abroad. Land prices have spiralled.
Around 35,000 people visited a recent trade fair, says Kanagasabai Poornachandran, president of the Chamber of Commerce and Industries of Yalpanam. More than 200 companies, 12 of them Indian, rented stalls, selling everything from spices, seeds, cosmetics and disco lights to loans, mobile-phone packages, construction equipment and tractors. After years of blackouts and rationing, Jaffna at last has a stable power supply. Still, in a reminder of the debilitating effect of the war, fewer than 20 stalls were selling native Jaffna fare. With no manufacturing to speak of, fishing and farming keep the peninsula going.
A year after the war, reconstruction in Jaffna is marred by the perception that the benefits are being reaped by the government and distant companies. Chinese firms are rebuilding the north's main road network. A state-owned bank is financing Jaffna's first three-star hotel. Young people lack the training employers want; joblessness remains a problem.
(For updates you can share with your friends, follow TNN on Facebook, Twitter and Google+)