On Sri Lanka, UN Soft Peddles Humanitarian Law, Still No War Crimes Panel for Ban Ki-moon after Gota Rajapaksa Threats
On Sri Lanka, more than two months after UN Secretary General Ban Ki-moon said he would name a group of expert to advise him on possible war crimes, still no panel has been named. Now, the Rajapaksa government of Sri Lanka has announced its own "mechanism."
The country's Ambassador to the UN Palitha Kohona told Inner City Press he advised Colombo to better publicize the "mechanism." He predicted that Ban will never actually name a panel. He asked, smiling, "For what? For money?"
Inner City Press on May 7 asked Ban's spokesman about the panel, and his top humanitarian official John Holmes about restrictions placed by the government, including its rejection of the UN Common Humanitarian Action Plan, which has blocked non governmental organizations from providing assistant in Vavuniya, about the lack of access to those in "rehabilitation" camps, even by the Red Cross, and other restrictions on NGOs. Video here, from Minute 39:09.
Holmes in his careful answer several times called relations with the Rajapaksa government "difficult" but still tried to make it seem fine, that for example over 10,000 people have been incarcerated without trial or visit for more than a year. He noted that the government threw the Red Cross out of parts of the country, and said he "hoped" they could return, including so that donor money could flow for "decent rehabilitation."
Holmes estimated the number in the "rehabilitation" camps at 11,000 to 12,000. He said there are still 80,000 in IDP camps, and some 220,000 "returnees." He did not note how few of them could vote, although he seemed to use the elections as the excuse for the lack of humanitarian access. Video here, from Minute 42:24.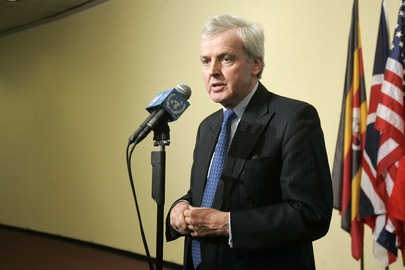 UN's Holmes, humanitarian access and war crimes panel not shown
(For updates you can share with your friends, follow TNN on Facebook, Twitter and Google+)