On War Crimes Experts, UN Waits for "Sham"Sri Lankan Panel, Hiding Behind Rice
The UN's statement on May 10 that on naming a panel of experts on war crimes in Sri Lanka Secretary General Ban Ki-moon's wheels are turning — or spinning — was amplified to Inner City Press on Tuesday by a senior Ban official. "Now they've come out with theirs," the UN official said, referring to the Rajapaksa administration's announcement of a "mechanism."
"It will be a sham," the UN official continues. Inner City Press asked, but how long will it take the UN to reach that conclusion? The UN official shrugged. "They have to appoint the members." He paused. "Susan Rice did a very good thing," he said, referring to US Ambassador Rice's May 10 statement on Sri Lanka.
"She welcomed it but listed expectations which they will never meet," the UN official said.
Inner City Press asked the official, as it has now asked the US State Department, what ever came of the committee the Rajapaksa administration named in November 2009. The official shrugged. "There is an EU statement coming," he said.
Earlier on May 11, as US Ambassador Susan Rice entered the Security Council for a meeting on terrorism sanctions, Inner City Press began to ask for a question about the statement issued in her name the previous day – what does it mean for the U.S.' support of Ban Ki-moon intention announced on March 5 to name a panel of experts to advice him on accountability in Sri Lanka?
Ambassador Rice indicated she was busy. Later a genial Mission staffer came to asked what the question was — Inner City Press rephrased it — and said he would go in and get an answer. But leaving the Council along with Ambassador Rice, he said he'd have to check with the "Sri Lanka people."
   Hours later in the UN's North Lawn building he again promised an answer. But still as of close of business and deadline, none was provided. Inner City Press sent this and other questions to an Assistant Secretary of State in Washington. Watch this site.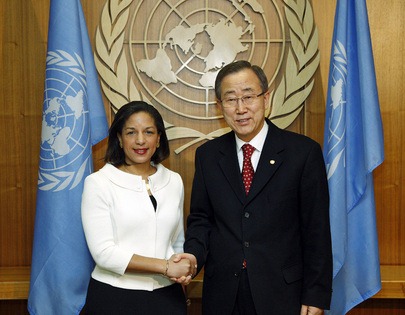 UN's Ban and Susan Rice, experts on war crimes not shown
From the UN's May 10 transcript:
Inner City Press: There is a report in Sri Lanka that the visit of Lynn Pascoe has been delayed by the Government; that the request was made that it be in mid-May. The Government said no. Now dates in June have been proposed, and this article.. seems to link Pascoe's visit with the appointment of this Panel of Experts to advise the Secretary-General on accountability — meaning they wouldn't be named until his visit. And now the visit, according to this, has been put off to June. Does the UN disagree with this portrayal? What is the connection between his visit and the naming of the panel? And is the visit not, in fact, going to take place in May despite the wheels that you described being motion?
UN Spokesperson Martin Nesirky: Well, thank you for prompting me; the wheels are still in motion on both the visit by Mr. Pascoe…
Inner City Press: Does the Government have the brakes on your wheels?
Spokesperson Nesirky: Well, that's for you to ask the Government of Sri Lanka. What I can tell you is that the UN wheels are definitely turning, and they're well-oiled. And what they're turning towards is, one, a visit by Mr. Pascoe, and, two, for the Panel of Experts that we've discussed many times here.
Inner City Press: This article says that there are some connections between the two; that that the panel would not be named before the visit is made. I have been told by the Permanent Representative of Sri Lanka that, given changes on the ground there, no panel is needed and he predicts that no panel will be named. So, is there any connection at all between Mr. Pascoe's visit and the naming of the panel that's now been delayed more than two months? Or not been delayed; it's been two months since it was announced it would happen.
Spokesperson Nesirky: Well, I don't think that we should draw a line between the two or to see this as cause and effect. The visit and the composition and naming of the panel — these are two separate matters.
Footnote: another reason clarification of Ambassador Rice's statement, is sought is the re-emergence in State Department of Samantha "Problem from Hell" Power, who wrote the — well, a — book on the lack accountability for war crimes. What does she think of the statement?
(For updates you can share with your friends, follow TNN on Facebook, Twitter and Google+)