Sri Lanka's Gen Sarath Fonseka denies incitement charge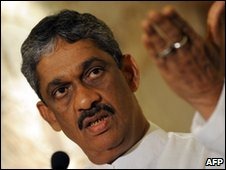 Defeated Sri Lankan presidential candidate Gen Sarath Fonseka has for the first time appeared before a civilian court to deny inciting unrest.
He is alleged to have said in a newspaper interview last year that the defence secretary ordered the killing of surrendering Tamil rebels.
The general appeared before Colombo magistrates to protest his innocence.
He said he had been misquoted by the newspaper and that the case was part of an attempt to silence him.
He is accused of saying that Defence Secretary Gotabhaya Rajapaksa – who is the brother of President Mahinda Rajapaksa – ordered the killings of Tamil rebels who surrendered during last year's military offensive against the group.
'Frivolous case'
Gen Fonseka is in military custody and faces separate court martial charges of engaging in politics while in uniform and overseeing corrupt arms procurements.
Gen Fonseka has filed several petitions in higher courts challenging his arrest in February, 12 days after he failed to unseat President Rajapaksa in elections.
The general led the military offensive which resulted in the elimination of the separatist Tamil Tiger leadership in May last year.
It effectively ended 37 years of ethnic conflict which had claimed up to 100,000 lives.
But Gen Fonseka fell out with the president and his brother over who should take the most credit for the victory.
"It is ironic that the man who was hailed a national hero for crushing Tamil Tigers is being brought before court exactly a year later," said Gen Fonseka's lawyer, Nalin Laduwahetty. "This is a frivolous case."
(For updates you can share with your friends, follow TNN on Facebook, Twitter and Google+)