California street fair embraces Sri Lanka boycott message
Members of the US-based Tamil political action group, USTPAC Boycott Campaign, joined the madness at the 11th annual How Weird Street Faire in San Francisco on Sunday, May 9th 2010 to publicize the group's mission to the attendees to event, organizers of the Tamil group said. Twenty-foot tall banners advertising the "No Blood for Panties" video series on boycotting apparel made in Sri Lanka adorned the backdrop of the catwalk, according to activists participating in the street fair.
Audio: Slide show of street fair
The annual event, inspired in 2000 by a small group promoting world peace through technology, brought nearly 12,000 fans in a global celebration of art, music and international culture from vendors and non-profit organizations across the world.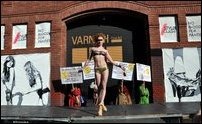 This year's theme was "Bollyweird: The cosmic Dance" and included ten music stages, a mock Hindu temple, fantastic costumes, food and other festivities spread across ten city blocks.
New this year was Fashion Alley that included a fashion runway featuring top local designers and models who introduced the concept of "conscious consumerism" and "designer activism".
Models in lingerie and USTPAC's boycott message of "check the label" were cheered on by an appreciative crowd and captured on numerous cameras, organizers said.
Protesters explained that textiles were the biggest export earner bringing foreign revenue to Sri Lanka and how that foreign exchange was being used by the government to maintain its military whose sole purpose is to oppress the Tamil people.
"Many at the Faire were shocked to hear about the human rights abuses, tens of thousands of internally displaced persons who still remain in internment camps even after the civil war ended a year ago and the war crimes that remain uninvestigated despite efforts by human rights organizations, the United Nations and the US State Department," spokesperson for the protesters said.
"Those who heard our story were sympathetic to our cause and extremely supportive of our campaign. They were willing to sign petitions and promised to boycott clothes made in Sri Lanka. Several models and colorfully attired attendees at the Faire asked to hold our boycott banners. Some even danced with them, adding to the attention they drew from the crowds," the spokesperson further said.
The open-minded ambiance of the Fair turned out to be an appropriate setting for the boycott campaign message, and the protesters were able to pass a serious message of boycotting clothes made in Sri Lanka to the attendees, USTPAC's spokespersons said.
(For updates you can share with your friends, follow TNN on Facebook, Twitter and Google+)