INTERVIEW-Post-war Sri Lanka's humanitarian needs may be greater than after the tsunami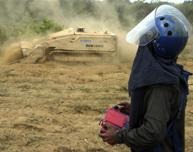 As Sri Lanka prepares to mark the first anniversary of the end of its civil conflict, aid workers are struggling to cope with the humanitarian impact of the war that could be worse than after the 2004 tsunami, a senior U.N. official said on Monday.
Almost 300,000 people were forced to flee their homes and seek refuge in camps in the north of the Indian Ocean island during the final months of the 25-year-old conflict between government troops and separatist Tamil Tiger rebels, which ended on May 19 last year.
But as the hundreds of thousands of war-displaced return home to find their houses destroyed and their villages and fields mined, the humanitarian community is facing an uphill battle to help them rebuild their lives because of a lack of funds.
"There has been a serious shortage of funding from donors and if the international community doesn't come forward soon, we are likely to run out of money for some key needs by June," Neil Buhne, the U.N.'s humanitarian coordinator in Sri Lanka, told AlertNet.
"More than 60 percent of the homes have been seriously damaged by the fighting and if you look at the numbers of people involved and the fact that there is little economy in the area, it is at least as bad, if not worse than after the tsunami."
The Indian Ocean tsunami in December 2004 killed 35,322 people in Sri Lanka alone and displaced over half a million.
Around 120,000 buildings on the island were destroyed by the waves and the cost of rebuilding has been estimated at $2.2 billion, according to the government, the U.N. and international aid agencies.
UNRESPONSIVE DONORS
The U.N. says it needs $337 million this year to help people returning after the war to rebuild their homes, clear areas scattered with unexploded ordnances and mines and restart livelihoods by providing seeds for farmers and boats for fishing communities.
There are also around 80,000 people still in camps who need basic provisions such as food and water as well as health, education and sanitation facilities.
But Buhne said so far donors have provided only $80 million – about 24 percent of what is needed – and while programmes are continuing now, they are at risk of being interrupted or stopped.
"We are worried that, for various reasons, the international community is losing interest in Sri Lanka just at a time when we really should be consolidating the gains of the end of the war," he said in an interview with AlertNet by telephone from Colombo.
"People don't see it as burning an emergency as it was last year because you don't have these terrible scenes of people fleeing the fighting and living in huge numbers in overcrowded camps, but the needs are still huge."
Donor fatigue, said Buhne, is also a factor with countries already stretched due to high budget deficits as a result of the financial crisis.
This has forced many donors to fund only the more severe emergencies such as the earthquake which struck the impoverished Caribbean island of Haiti in January.
Some aid workers add that the Sri Lankan government's strained relationship with foreign donors last year – when aid workers and journalists were expelled for being critical and visas for diplomats were refused – has also made some donors wary of dealing with the country.
RISKY SITUATION
According to Buhne, the lack of aid is already taking its toll on those who need it most.
The U.N. Refugee Agency (UNHCR), which was providing a shelter grant of about $200 per household to returning communities to help them restart their lives, ran out of funds in March, before restarting again with special U.N. funding.
Many aid agencies working in the camps have had to stop relief work, leaving tens of thousands with less water and food provisions as well as adequate sanitation services.
The U.N. has been forced to draw around $14 million from its Central Emergency Response Fund with which it is currently running most of its key humanitarian programmes, said Buhne. But this will also be used up within the next two months, he added.
This will mean returning populations may, by July, have no cash when they reach home.
Demining agencies will also be unable to finish clearing agricultural land before the monsoons due in late September, leaving communities unable to cultivate crops and start earning any income.
Aid shortages would also lead to deterioration in the conditions in camps and could force large numbers of people to leave and return to areas which were not ready to receive them.
(For updates you can share with your friends, follow TNN on Facebook, Twitter and Google+)