On Sri Lanka, UN Won't Answer Questions, Its IRIN Censors Criticism of Ban?
With the UN under fire for its role with respect to war crimes in Sri Lanka, the UN has apparently taken to censoring reports which raise the question, while leaving those questions it does in person take unanswered more than a full day later.
On May 16 the International Crisis Group e-mailed to the Press its reports calling for an inquiry into "the conduct of the UN during the last year of the conflict, examining the UN's September 2008 withdrawal from Kilinochchi through to its ineffectual attempts to push for a ceasefire and its involvement in Sri Lankan government internment camps."
Inner City Press reported on this call on May 16, and at the next day's UN noon briefing asked Martin Nesirky, the spokesman for Secretary General Ban Ki-moon, to respond to those three points. Nesirky said the report would have to be studied, but committed to get for example the dollar figure spent by the UN on the camps.
Prior to the May 18 noon briefing, Inner City Press learned that the UN affiliated IRIN News service had "spiked" a story about the ICG report, allegedly because the Government of Sri Lanka had refused to comment on the report.
Nesirky at the May 17 noon briefing, however, tried to deny Inner City Press the right to ask about this presumptive censorship. "Only one more questions," Nesirky declared, pointing at another correspondent — who in turn ceded this final question to Inner City Press.
Why is there a limit on questions, Inner City Press asked. I can end the briefing when I want to, Nesirky said. Based on the previous day, he knew there were questions to be asked. Inner City Press asked him to confirm or deny the censorship by IRIN of a story critical of his boss' performance on Sri Lanka.
"Ask IRIN," Nesirky twice said. Inner City Press emphasized that the allegation made to it of UN censorship redounds against Ban Ki-moon, not the acronym of IRIN. "Ask IRIN first," Nesirky said, ending the press conference. Video here, at end.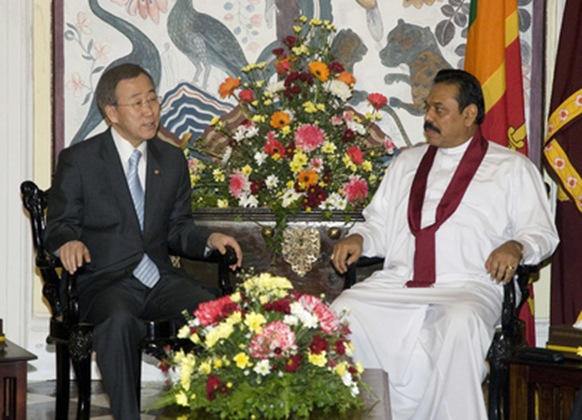 UN's Ban under M. Rajapaksa's gaze, IRIN and answers not shown
Inner City Press did ask IRIN, and its parent the Office for the Coordination of Humanitarian Affairs:
Please on deadline confirm or deny that IRIN spiked and/or declined a run a piece about the ICG report on Sri Lanka and the UN's role;
unless you deny, please confirm that the reason was the Gov't of Sri Lanka's failure to provide comment, which ICG asked for from them three weeks ago;
and please comment on why this IRIN decision is not… censorship.
At yesterday noon's briefing, several questions around about OCHA's performance in Sri Lanka, and ICG's critique of inter alia the pull out from Kilinochchi and the funding of internment camps. Some of the question are below, from the transcript. A request was made for John Holmes to come and take questions on these topics. In the interim, please provide OCHA's response to the ICG report, as the Spokesman did not, 24 hours after the questions were asked.
Although each of these was on deadline, the response received stated that "IRIN does NOT in general tend to write stories on things like ICG or HRW types of reports, because they already get good pick up, and IRIN per se would have little to add."
But as ICG itself points out, IRIN routinely writes about ICG in connection with other countries and even on more positive stories about Sri Lanka.
In fact, IRIN recently published a story about Sri Lanka called "Some Kind of Peace." But ICG's report about war crimes was not covered, it says, because the Government of Sri Lanka would not comment. (It was perhaps too busy writing abusive letters and more to journalists.)
(For updates you can share with your friends, follow TNN on Facebook, Twitter and Google+)