Malaysians mark Sri Lankan massacre
By S Rutra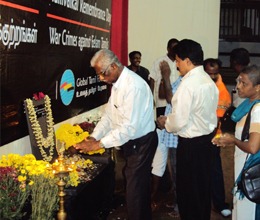 KUALA LUMPUR: Some 200 Malaysians joined Tamils from 25 major cities in the world to mark the first Mullivaikal Remembrance Day, where some 40,000 Tamils had perished during the final stages of the bitter Sri Lankan civil war.
Similar gatherings were also held in London, Melbourne (Australia), Ottawa (Canada), Stockholm (Sweden), Chennai (India), Washington DC (United States) and several other major cities.
Former Suhakam commissioner N Siva Subramaniam and lawyers S Pathi and K Arumugam were among the notable figures present at yesterday's gathering held at a hall in Brickfields here.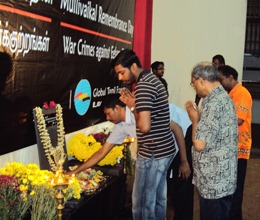 Subramaniam and Pathi, who also heads the Educational, Welfare and Research Foundation, urged the Malaysian government and international community to step up pressure on the United Nations to bring those responsible for committing war crimes in Sri Lanka before the international court.
Siva pointed out that watchdogs such as Amnesty International and other organisations concurred that serious human rights violations had taken place, especially towards the end of the conflict, and called on the UN to take comprehensive action.
"The international community must voice out its views to prevent such attrocities from happening in Sri Lanka, or any other country, again," he said.
'Safe zones' bombed
On May 16, the New York Times reported that tens of thousands of Tamil civilians died during the last months of Sri Lanka's civil war based on an investigative report by the International Crisis Group.
Most of the deaths occurred due to government troops shelling areas that were supposed to be "safe zones".
The report, which cited witness testimonies, satellite images, documents and other evidence, called for a comprehensive international investigation.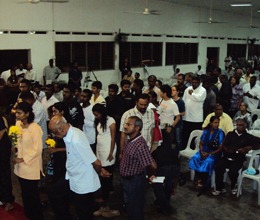 The war ended a year ago, when rebel leader V Prabakaran, who helmed the Liberation Tigers of Tamil Eelam, was killed. The LTTE had mounted a two-decade armed struggle for an independent state.
United Nations workers counted about 7,000 dead in the last weeks of April, just before the last phase of the fighting, but diplomats, aid workers and human rights activists have long argued that those figures far underestimated the dead and did not include the final weeks of battle.
Government officials, meanwhile, have repeatedly denied singling out civilians, and have said that the total number of people killed is much lower.
On May 6, 2010, the Sri Lankan government announced that it will establish a commission to report on the lessons learnt from the conflict and reconciliation efforts following mounting pressure from UN secretary-general Ban Ki-Moon.
Sri Lanka has established at least 10 such commissions to deflect international criticism, none of which have produced any significant results.
Spirit of independence still there
Meanwhile, Pathi said everyone, and not only the Tamils, should remember May 18.
He urged all, regardless of colour and creed, to help out in whatever they can. Most of the relief work is being carried out by UN and other organisations in areas that were totally devastated.
"It's a long journey for the Tamils in Sri Lanka for their quest for an independent state and the international community should understand this," he said.
Although the defeat of the LTTE is considered a setback, Pathi said the spirit for independence is still there.
Speaking to FMT later, the lawyer said some 5,000 Sri Lankan Tamils have sought refuge in Malaysia but are living in poor conditions, lacking in food and shelter.
"They were given temporary stay here by the Malaysian government until UNHCR (United Nations High Commissioner for Refugees) re-settles them in a third country," he added.
Pathi also asked the Malaysian government to allow these refugees to seek employment on a temporary basis instead of depending on handouts.
Meanwhile, Arumugam expressed concern over Sri Lankan Tamils being held at immigration detention centres.
(For updates you can share with your friends, follow TNN on Facebook, Twitter and Google+)