Mass grave discovered in Naachchikkudaa, Mannaar
De-mining workers of Danish De-mining Group (DDG) have discovered a mass grave in Naachchikkudaa area in Mannaar containing 75 to 100 skeletal remains while engaged in de-mining in the area, informed sources in Mannaar told TamilNet Wednesday. Sri Lanka Army (SLA) had not permitted resettlement in Naachchikkudaa earlier claiming that the area was infested with landmines and a great quantity of explosives lying buried at the height of the war had taken place in Naachchikkudaa. It is suspected that the skeletal remains discovered may have belonged to young men and women, the sources added.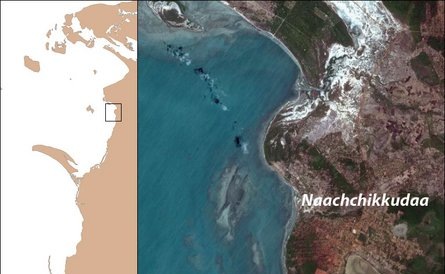 The sources also revealed that the de-miners also found a lot of unexploded landmines and explosives in the area.
Though people have been permitted to resettle in many parts of Mannaar district Naachchikkuda is not one of them.
Even the de-mining activities are carried out under the strict supervision of the SLA in Naachchikkudaa.
SLA authorities have refused to release any information about the mass grave.
Meanwhile, on 08 October 2009, Parliamentary Group Leader of the Tamil National Alliance (TNA), R. Sampathan said in Sri Lanka Parliament that, "The Sri Lanka government fears that, if the international community gets involved in the de-mining, they may stumble on to mass graves of Tamil victims killed during the last stages of fighting between the Sri Lanka military and the Tamil Tigers," accusing the Sri Lankan government of refusing to accept foreign assistance towards the de-mining.
(For updates you can share with your friends, follow TNN on Facebook, Twitter and Google+)