Post-war Sri Lanka searches for 'just peace'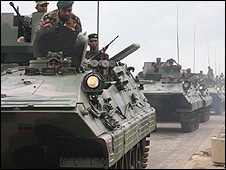 It is exactly a year since Sri Lanka declared victory in its decades-long war against Tamil Tiger separatists. It ended with the top Tiger leaders killed after being besieged with thousands of civilians they had herded into their final stronghold.
On the strength of that victory, President Mahinda Rajapaksa and his government won landslide elections. Charles Haviland reports from Colombo as Sri Lankans reflect on a remarkable anniversary.
By a grey sea, tanks rumble into motion. Massive vehicles mounted with mortars, artillery and multi-barrelled weapons parade steadily past a podium.
All the army regiments are on hand, their berets black, maroon or blue, their uniforms khaki and camouflage. "Eastern Front" reads one truck. "Vanni Theatre" reads another, recalling the last northern battleground. Marching music and drum beats fill the air.
For the anniversary, the Sri Lankan military has been rehearsing for a huge display of the hardware that helped it win.
The government is irritated because it feels that many Western countries, troubled at the scale of civilian casualties at the end of the conflict, fail to give Sri Lanka due credit for its achievement.
Coup plot
"Even the big countries, they are battling to defeat terrorism," Rajitha Senaratne, a cabinet minister, tells me at his home on a rainy evening.
"All the entire world armies fighting in Iraq, in Afghanistan, still failed.
"But the same terrorism, one of the worst terrorist organisations, has been crushed by the small country, a small army, the Sri Lankan army. And taught it a lesson. So actually it's something to celebrate."
Heavy rains have delayed the victory parade. But when it happens, there will be one man conspicuously absent – the result of a bitter post-war feud.
Gen Sarath Fonseka, who headed the army when the war was won, is locked up at naval headquarters, within easy earshot of the parade ground.
He unsuccessfully challenged President Rajapaksa in January's presidential election. Shortly afterwards the government accused him of planning a coup.
It arrested him and is trying him on various counts, including one that he dabbled in politics while still army chief.
He can only leave detention to attend parliament, having been elected to it last month.
His family and colleagues deny he did anything wrong.
"They have given two or three charges but all are false," his wife, Anoma Fonseka, tells the BBC.
"I know that because my husband has a very clean character and he has never done anything wrong for our country. The truth will be coming out afterwards."
Transformed atmosphere
Whoever masterminded the war victory, most Sri Lankans are heartily glad it is all over.
The five-star hotels are buzzing once more. Tourism has picked up from its war-time doldrums.
In one top city establishment, the Cinnamon Grand, I sip a caffe latte with Dai Liyanage.
He's a Sri Lankan who lives in Britain. But since the war he keeps revisiting. He says that with the Tamil Tigers no longer active, the atmosphere is transformed.
"Places like bus stations and railway stations were targets where large numbers of people could be killed in one go. So that was always a fear," he says.
Now he says that things have improved so much that "there's absolutely no fear of any terrorism whatsoever".
Not everyone, though, wants to celebrate.
The main Tamil party has asked that people offer special prayers at temples and elsewhere, saying this is a time for mourning because so many died in the long war including tens of thousands of civilians.
This week the International Crisis Group called for a UN-backed investigation into possible war crimes by both sides, especially in the war's final phase.
"Can you have unity without reconciliation – can you have reconciliation without accountability?" asks Paikiasothy Saravanamuttu, a human rights activist from the Centre for Policy Alternatives think tank.
"There are people who still want to know what happened to members of their family. There are a number who are missing and disappeared. And people are not going to forget those things easily."
He believes there should be more acknowledgement of the suffering endured by ordinary people.
'Ambiguity'
Another critic of the government is a man who was until recently a top Sri Lankan diplomat, Dayan Jayatilleka.
As ambassador to the UN in Geneva last May, he helped ward off a planned motion of censure against his country from Western governments over the conduct of the war.
Mr Jayatilleka tells the BBC that the war was an entirely just one, but he feels there is not yet a "just peace".
"I strongly felt and feel that we should have followed up the military victory with an outreach to the Tamil people and the Tamil politicians," he says.
"I do not see that having happened. And we have a studied silence or at best an ambiguity about the shape of the political settlement or the political reconciliation between the south and the north."
The government says its priority is not political reforms but redeveloping the north where many war-displaced Tamils still lead very restricted lives in military-run camps.
Indeed, the war still casts a heavy shadow over Sri Lanka.
The authorities say they must go on countering remnants of the Tamil Tigers based abroad.
One year on, they denounce what they call "traitors" at home.
A state of emergency remains in force and the defence ministry is still taking on new powers.
But the authorities reject accusations of war crimes against them or the idea of any international inquiry on the matter.
(For updates you can share with your friends, follow TNN on Facebook, Twitter and Google+)