As Sri Lanka Names Its Own Palihakkara as Investigator, UN Panel Would Not Look at UN's Role in War Crimes
As witnesses testify that orders to execute prisoners came from the top of Sri Lanka's government, the UN on Wednesday couldn't confirm it is even following the issue. Inner City Press asked Secretary General Ban Ki-moon's spokesman Martin Nesirky about the much publicized report on UK Channel 4. "I would have to check with colleagues if they are aware" of the report, Nesirky said.
Inner City Press asked if the panel that Ban said ten and a half weeks ago would be named without delay would have jurisdiction to look into the UN's own role, described by the International Crisis Group, in war crimes in Sri Lanka. Video here, from Minute 11:12.
No, Nesirky in essence replied. He said the panel would only "advise the Secretary General on the extent to which a domestic inquiry in Sri Lanka would meet normal standards." Thus, the delayed Ban panel would not, even if named, be responsive to the calls for investigation made by ICG, Amnesty International, Human Rights Watch and others.
On BBC, Louise Arbour of ICG said the government violated the laws of war by blurring the line between combatants and civilians, and that its killings of civilians were not accidents. Palitha Kohona, Sri Lanka's Number One Ambassador to the UN who is apparently letting his Number Two run wild or play bad cop, said he had read the ICG report — the UN has apparently not finished it — but that any outside, independent investigation would be "colonial and paternalistic."
But how could a panel now named by Mahinda Rajapaksa investigate war crimes claims made against his own brother? On the panel is Kohona's predecessor as Sri Lanka's Permanent Representative to the UN, H.M.G.S. Palihakkara, who defended the blood bath on the beach as it took loomed and took place. See video here (March 26), here (April 22, and Inner City Press' Q&A report), and here (June 5).
   Would the UN accept, for example, Sudan's UN Ambassador investigating claims against Omar al-Bashir?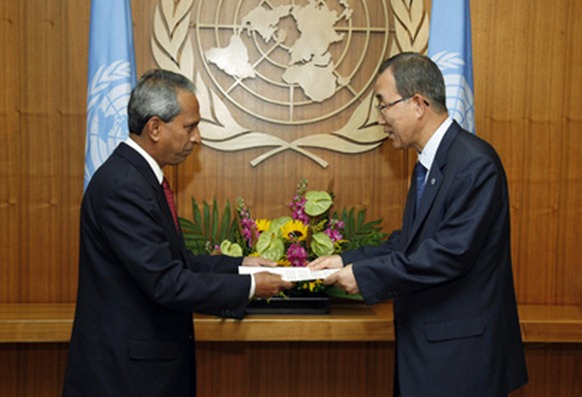 UN's Ban and Palihakkara- credible investigation not shown
Against this backdrop, Nesirky has in two days not provided any of the answers he promised on Monday, including how much the UN spent on Sri Lanka's internment camps, and with what safeguards if any. There has still been no response from the IRIN or Ban's office to what's described as censorship of the ICG report by the UN's IRIN news service.
From the UN's May 19 transcript:
Inner City Press: on Sri Lanka, I wanted to ask, there is a report since our last interchange on Channel 4 in the United Kingdom, citing senior military commanders, that there were orders from the top to kill surrendering soldiers or hardline elements of the Tamil Tigers, saying these orders came from the top, that "we were to leave no one alive". What I am wondering is, in light of this still either delayed for 10 and a half weeks — however you characterize it — appointing of a panel to advise Ban Ki-moon on accountability in Sri Lanka, are they aware of this report? Does it make it go faster, and would that panel have jurisdiction to advise the Secretary-General on the UN's own role in, as we discussed, leaving Kilinochi, an ineffective call for a ceasefire, and funding internment camps as ICG [International Crisis Group] has alleged?
Spokesperson: On the specific news report that you are referring to on Channel 4, I would have to check with colleagues whether they are aware of it. I do not know the answer to that right now. On the broader question, the Panel of Experts will have the role to advise the Secretary-General on what the standards are for a credible domestic investigation or inquiry. In other words, to address the question of accountability that has been discussed very often. So it is a very specific aim, to advise the Secretary-General on the extent to which a domestic inquiry — meaning in Sri Lanka — would meet normal standards, widely-held standards, for that kind of investigation. So it is fairly specific.
Inner City Press: And if you don't mind, since on Monday, I think, you had said that the Secretariat was going study this International Crisis Group report, which actually made some allegations or called for an international inquiry into the UN's own conduct. What is the UN's response to that? Do they think that is appropriate? Given that this Panel would not even do that if named, what is the UN's response to Louise Arbour and the ICG's call for an inquiry into the UN's own actions in this matter?
(For updates you can share with your friends, follow TNN on Facebook, Twitter and Google+)