On Sri Lanka, IMF Calls War Crimes Report Of Concern, Tranche Turns on Budget?
Asked about Sri Lanka, IMF spokesperson Caroline Atkinson on May 20 said, "on the war crimes report, yes of course we're aware of that, and that's something that's of concern and interest."
  Inner City Press had asked about the IMF's current visit to northern Sri Lanka, the status of the delayed third tranche of the IMF program, and this week's International Crisis Group report on war crimes.
Despite predictions that the third tranche will not be disbursed any time soon due to the policies of the Rajapaksa government, Ms. Atkinson on Thursday deferred answering, stating that "we have a mission in the field and that will conclude soon… by the end of the week so that means probably tomorrow."
  She said a press release would issue. But one wonders if the IMF will seek as it has in the past to limit questions and answers to friendly reporters. We'll see.
"The travel to the North," Ms. Atkinson said, was "part of our usual practice of we go outside of the capital and meet with regular people." One wonders if the IMF met any of the people still in the IDP and "transit" camps.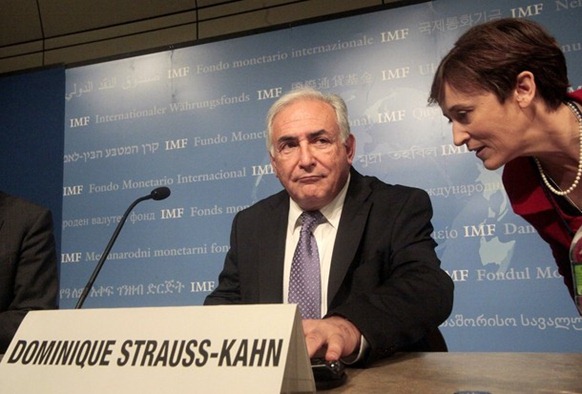 IMF's DSK and Ms. Atkinson, ICG report on war crimes in Sri Lanka not shown
  From press reports, the meetings were with government officials like "the Governor of Northern Province, G.A. Chandrasiri and the Government Agent/District Secretary for Jaffna K.Ganesh," who gave the IMF cost estimate of funds they want for the controversial camps.
(For updates you can share with your friends, follow TNN on Facebook, Twitter and Google+)