Sri Lanka failed to build on war victory: Fonseka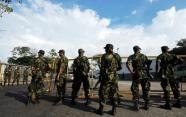 The detained Sri Lankan general who led soldiers to victory over Tamil Tiger rebels one year ago accused the government Thursday of failing to convert his success into a new era of peace.
Sarath Fonseka, a key architect of the strategy that finally defeated the Tigers after decades of bloody conflict, said the public's fear of rebel suicide bombs had been replaced by the fear of political persecution.
"When I ended the war last year, there was hope in the country of an economic revival and a sense of freedom," Fonseka told reporters in Colombo. "Hope has now turned to despair."
Fonseka fell out with President Mahinda Rajapakse soon after the defeat of the Tigers last May and quit the military before unsuccessfully contesting the presidency at January elections.
He was arrested 12 days later and is now in detention amid a court martial trial for allegedly dabbling in politics while in uniform and for corrupt procurements.
"Last year around this time I was the main national hero, but today I am a political prisoner," Fonseka said, speaking at parliament, which he is allowed to attend despite being held in custody.
International rights groups have accused the government of suppressing political dissent and slapping unofficial censorship on the independent media.
Fonseka backed mounting international calls for war crimes investigations into the final phase of fighting last year.
"My position is that no war crimes were committed, but if there are specific allegations they must be investigated," Fonseka said. "I will not protect anyone if they have carried out illegal acts."
The Brussels-based International Crisis Group in its latest report this week said it had evidence that Sri Lankan troops caused thousands of civilian deaths by shelling.
Sri Lanka has consistently denied the charges. The United Nations estimated that at least 7,000 civilians were killed in the first four months of 2009.
(For updates you can share with your friends, follow TNN on Facebook, Twitter and Google+)