Sri Lanka likely to get delayed IMF millions soon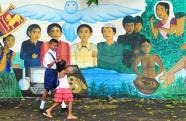 The International Monetary Fund is likely to release a delayed bailout loan of more than 300 million dollars to bSri Lanka within four to six weeks, an official said Friday.
The island had asked for a 2.6 billion dollar IMF bailout package, to avoid its first balance of payment crisis, after the island's foreign reserves fell below one billion dollars last year.
The loan was approved in July, two months after the military crushed the Tamil Tiger rebels and ended a 37-year conflict that claimed 100,000 lives according to United Nation figures.
The government delayed presenting its 2010 budget until June 29, due to the April parliamentary polls.
"If things move smoothly, the third tranche, worth about 318 million dollars, could be released within four to six weeks," Brian Aitken, head of the IMF mission to Colombo, told reporters at the end of a 10-day visit.
The tranche was delayed in February, after Sri Lanka overshot its 2009 target of seven percent. The gap came in at 9.7 percent, Aitken said.
He said Sri Lankan authorities had outlined policies to raise revenue, cut spending and move towards a sustainable deficit reduction this year.
President Mahinda Rajapakse, who is also the island's finance minister, had promised to raise tax revenues and introduce fiscal reforms in this year's budget. More fiscal reforms are expected in the 2011 budget.
Aitken said the government has shown progress towards pruning its excessive spending and boosting revenue.
"The numbers we have discussed so far are very encouraging," he said but declined to elaborate.
"Revenue raising measures will come from ongoing tax reforms which are to broaden the tax base, cut down on tax holidays to investors and lower taxes in some areas," he said.
Sri Lanka's 42 billion-dollar economy is forecast to grow at 6.5 percent this year, from 3.5 percent in 2009, Aitken said.
(For updates you can share with your friends, follow TNN on Facebook, Twitter and Google+)