Congressman's war crimes call to Clinton to dog Peiris's visit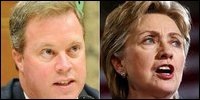 Congressman Steve Driehaus (D-OH), a senior member of the United States National Security and Foreign Affairs Committee, in a letter to US Secretary of State, Hillary Clinton, asked her to "urge the United Nations Secretary General Ban Ki-Moon to conduct an investigation into reported human rights violations," in Sri Lanka. The Congressman points out in the letter that "[t]he pain assoicated with this [Sri Lanka's] conflict was further exacerbated as a result of alleged war crimes, crimes against humanity and other serious crimes committed during the final phase of the Sri Lanka's civil war." Sri Lanka's External Affairs Minister G.L.Peiris is expected to visit the US this week, and his visit and his meeting with State Department officials are widely believed to be on accountability issues of Sri Lanka's war crimes, according to knowledgeable sources in Washington.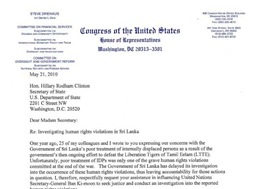 "One year ago, 25 of my collegues and I wrote to you expressing our concerns with the Government of Sri Lanka's poor treatment of internally displaced persons as a result of the government's then ongoing effort to defeat the Liberation Tigers of Tamil Ealam.
"Unfortunately, poor treatment of IDPs was only one of the grave human rights violations committed at the end of the war. The Government of Sri Lanka has delayed its investigation into the occurrence of these human rights violations, thus leaving the accountability for those actions in question," the Congressman said, and added that he urges Hon.Clinton's assistance in influencing Secretary General Moon to conduct an investigation into the violations.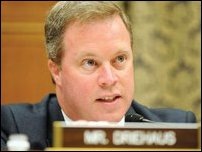 The Congressman also noted in the letter that while UN estimates that at least 7000 civilians in the no-fire zones were killed, "other estimates have reported that the number of deaths exceed 30,000 men, women and children."
On 10th of May, US's UN Ambassador Dr. Rice, said that she welcomed Colombo's appointment of a commission to investigate the crimes. However, a senior UN official, pointed out that "[Sri Lanka's] own commission will be a sham" and commended Dr Rice for attaching the conditions,
"to be effective in advancing accountability and reconciliation, commission members should be and be perceived as independent, impartial and competent; their mandate should enable them fully to investigate serious allegations of violations and to make public recommendations; commission members and potential witnesses must enjoy adequate and effective protection; the commission must receive adequate resources to carry out its mandate; and the Government should undertake to give serious consideration to its recommendations,"
and added that Colombo will never be able to meet these conditions.
Inner City Press which covers closely UN actions on Sri Lanka questioned if "the re-emergence in State Department of Samantha "Problem from Hell" Power, who wrote the book on the lack accountability for war crimes," would have any impact on the US Ambassador's position related to Sri Lanka war crimes.
(For updates you can share with your friends, follow TNN on Facebook, Twitter and Google+)