Sri Lanka's Peiris to Meet Ban, Nambiar and Select Press, War Crimes and Internment Camp Questions Not Taken
Eighty eight days have passed since UN Secretary General Ban Ki-moon announced he would name a panel of experts to advise him on war crimes in Sri Lanka. Still not a single panel member has been named. Now new Sri Lankan Minister of External Affairs Professor G.L. Peiris is flying to New York to meet with Ban and his main adviser on Sri Lanka, Vijay Nambiar.
Sri Lanka's Mission to the UN began inviting select journalists, most of whom never wrote about last year's bloodbath on the beach or anything else about the Island, to interview wine and dine with Mr. Peiris. They are to meet at the Waldorf=Astoria.
Inner City Press, which covers Sri Lanka including accompanying Ban and Nambiar on what was dubbed their "victory tour" to the Vavuniya camps in May 2009, put in a formal request to the Sri Lankan Mission to be able to pose questions to Minister Peiris.
There has been no written response, but at Buddhist event held May 21 in the UN's new North Lawn building, a staff member from the Sri Lankan mission shook her head and said "it is all up to the DPR." Inner City Press asked that its request to pose questions be conveyed to Permanent Representative Palitha Kohona, who has repeatedly claimed to be open to the press. Still no response has been received.
  One wonders if the reported request to the UN by Peiris predecessor, former Foreign Minister Bogollagama, for a job for his son is still standing…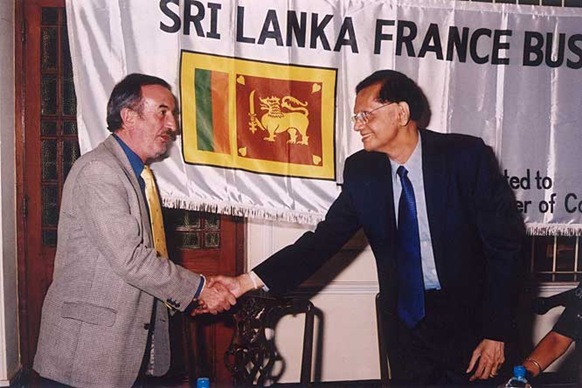 Peiris.. about Paris
Peiris is also slated to meet with both US Permanent Representative Susan Rice and Secretary of State Hillary Clinton. Upon begin named minister, Peiris declined to even set any time table for the resettlement of Tamils in the IDP camps the funding of which by the UN the International Crisis Group has criticized. Will Rice or Clinton raise even this issue? Watch this site.
(For updates you can share with your friends, follow TNN on Facebook, Twitter and Google+)