In Waldorf, Peiris and Kohona of Sri Lanka Spin Selectively, War Crimes Defense Tour Begins Behind Closed Doors
Sri Lanka's war crimes defense tour has begun. Sunday evening in Manhattan's Waldorf Astoria hotel, new Minister of External Affairs G.L. Peiris held interviews with selected reporters in the presence of the country's Permanent Representative to the UN, Palitha Kohona.
One reporter upon leaving his interview with Peiris told Inner City Press, "Well, he made his defense."
  Often when foreign ministers or even heads of state come to the UN in New York, they hold press conferences open to all media. At such recent events, Inner City Press has put questions as simply two examples to Iran's Mahmoud Ahmadinejad, and Georgia's foreign minister. Perhaps, some wondered, G.L. Peiris is not ready for prime time?
Despite having covered Sri Lanka more closely than any other correspondent at the UN for the last two years, when Inner City made a formal request to the Sri Lankan Mission, then directly to Palitha Kohona, to pose questions to Minister Peiris, the requests were neither granted nor even responded to.
Rather, several journalists who have never written about Sri Lanka much less seen the internment camps at Vavuniya were invited, some to be wined and dined and told that all is well in Sri Lanka. There is more to be said on this.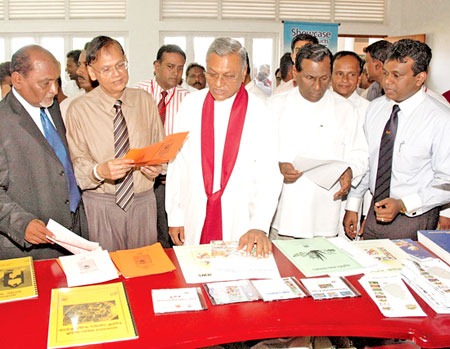 GL Peiris, brown shirt, brown tie, not ready for prime time?
Peiris is slated to meet with UN Secretary General on May 24, then fly to Washington. He will meet with Secretary of State Hillary Clinton. He will also meet, in New York or Washington, with US Permanent Representative to the UN Susan Rice.
When Inner City Press sought clarification from the US Mission of Ambassador Rice's praise of Mahinda Rajapaksa's "Lessons Learnt and Reconciliation Commission" which includes his Kohona's predecessor Ambassador Palihakkara, who defended the "bloodbath on the beach" in real time, none was received for two days, until Inner City Press managed to ask the question at a stake out.
(For updates you can share with your friends, follow TNN on Facebook, Twitter and Google+)