Sri Lanka steps up pressure against foreign war panel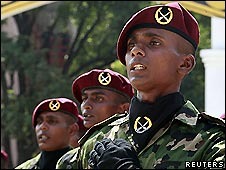 Sri Lanka's government has stepped up diplomatic pressure against UN attempts to investigate its conduct in the against Tamil Tiger rebels.
But UN chief Ban Ki-moon says that he is still working on setting up a panel of experts to advise him on Sri Lanka's human rights accountability.
Sri Lanka's foreign minister has said it would have no "moral justification".
Meanwhile, in the north, relatives of people who disappeared during the war have staged a demonstration.
The message from Sri Lanka to the international community is: "Don't interfere".
Last week the International Crisis Group (ICG) think tank said there should be an international inquiry into possible war crimes which it alleged were committed by the government and the Tamil Tigers towards the close of the war.
As Ban Ki-moon said he was working on setting up a panel of experts, Sri Lanka's new foreign minister, GL Peiris, said in New York that such a panel would "have no legal and moral justification."
He told Mr Ban that any international involvement would provoke a negative political reaction.
The government rejects allegations in the ICG report that its all-out military offensive may have killed tens of thousands of Tamil civilians.
Top ministers say the army operation killed no civilians at all.
Colombo has just appointed its own commission to look at the final seven years of the conflict. Its mandate includes looking into individual responsibility – but it will meet behind closed doors
The United States has welcomed the move. But local and international human rights campaigners say they fear that it will achieve nothing.
Meanwhile in the northern district of Vavuynia, about 400 relatives of disappeared people have demonstrated urging the government to provide information about 12,000 people who they say went missing during the war.
They have asked the authorities to release the names of those currently in army detention so they can get a better idea about whether their loved ones are still alive.
BBC News – Sri Lanka steps up pressure against foreign war panel
(For updates you can share with your friends, follow TNN on Facebook, Twitter and Google+)