Wife of victim in Channel-4 photo identifies husband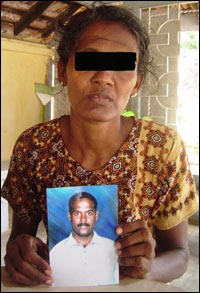 The 7-year-old daughter of a 40-year-old victim of Vanni War identified her father from the photos released by Channel-4 last week and published in local papers in Jaffna. She and her mother, who lost her husband and a 2-year-old son, are now sheltered in an orphanage in Jaffna. A humanitarian activist who met the mother told TamilNet that the victim in the photo, kept naked inside a bunker by the Sri Lanka Army, was Harikrishanan Thuraichamy. He was reported missing since April 2009, when he went to Ananthapuram area promising his family to recover their belongings. He was a former LTTE member, but had left the movement and living with his family, according to his wife. Although some friends of Mr. Harikrishnan had told her that his body was seen among LTTE fighters killed, she has not seen any evidence and she still believes her husband is alive in SLA custody.
"I saw my husband's photo revealed by Channel-4 in local dailies. My daughter identified it first. Although some told me earlier that my husband was killed and that they had seen his body among Tiger fighters massacred by the SLA, I could not believe it. I believe he is still alive in Sri Lanka Army custody," the wife who did not wished to be named, explained to a human rights activist.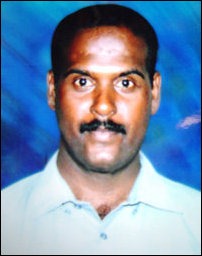 Thuraichamy Harikrishanan is a native of Koomaangku'lam in Vavuniyaa and a long time member of the LTTE.
He was settled with his wife, two children and his old mother in Puththukkudiyiruppu of Mullaiththeevu district.
During the height of the war, they displaced from Puthukkudiyiruppu to Ananthapuram. One day, their two-year-old son Arutkeeran and 68-year-old mother, Soosaimuthtu Philomina, were killed in an indiscriminate air attack carreid out by the Sri Lanka Air Force (SLAF).
After the SLAF bombardment, they moved to Valaignarmadam.
One day in April 2009, her husband went to Ananthapuram area promising the family to secure their belongings. But, he was missing since then.
His wife, uprooted from Vanni and unable to cope with the losses, is living in a an orphanage in Jaffna in a physically weak condition, undergoing a psychological trauma.
"My daughter showed me my husband's photo in the newspaper and I believe he is alive and will come back one day," the woman who wishes to remain anonymous said.
(For updates you can share with your friends, follow TNN on Facebook, Twitter and Google+)