As Sri Lanka Spins, UN Slow and Silent on Why Stopped Counting the Dead
Eighteen hours after UN Secretary General Ban Ki-moon met with Sri Lankan minister G.L. Peiris, Inner City Press asked him how the meeting had gone and what he had said. His associate spokesperson Choi Soung-ah cut in, "We'll get you a read out… We have a read out for today."
But Sri Lanka's Mission to the UN put out their spin on the meeting before eight pm on Monday, four hours after it ended. Why would the UN delay twelve hours and counting?
Perhaps in the nature of a read out, Ban advisor Nicholas Haysom went on the record to say "there are times when, on grounds of safety, you have to make tough calls about whether and when to remove international staff, or even national staff, and yet how to continue to deliver humanitarian aid, and we've had to do this in Afghanistan."
But the question is not only the UN pulling out of Kilinochchi, it is also the UN stopping preparing estimates of civilians being killed, after the government expressed anger at the leak of one such report (to Inner City Press). By contrast in Afghanistan, the UN provides estimates of and statements on the killing of civilians.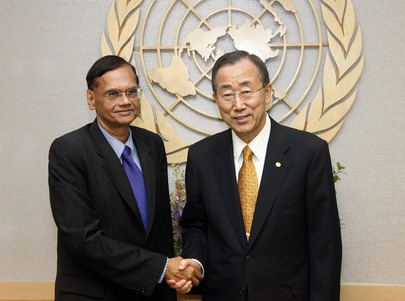 UN's Ban and Peiris: one issues a read out, the other doesn't
If Haysom is going to be providing the UN's response to the International Crisis Group's call for an international — and independent — investigation of the UN's role in war crimes, he should come and do a briefing and take questions. More importantly, Ban's chief of staff Vijay Nambiar should at last answer questions about his role. We will await the UN's belated read out.
Update of 2:20 p.m. — even at Tuesday's noon briefing, no UN read out of the meeting with Sri Lanka was given. Nor, even after eight days, was any response ready to the International Crisis Group report. A question about Mr. Nambiar, however, was asked, and was strangely referred out by the UN. We will have more on this.
Update of 11:37 p.m. — long after close of business on Tuesday, the read out below was received:
Subject: Readout
From: Associate Spokesperson
Date: Tue, May 25, 2010 at 10:53 PM
To:Inner City Press
Dear Mathew,
I'm told you asked for the readout of the SG's meeting with the Sri Lankan Minister of External Affairs. Sorry you didn't receive it but you should've asked me right away after I told you this morning that we have it in the office. Here it is:
Readout of the Secretary-General's meeting with the Minister of External Affairs of Sri Lanka
24 May 2010
The Secretary-General met with the Minister of External Affairs of Sri Lanka Pieris today. They discussed issues of common interest and in particular the situation of persons displaced during the conflict, national reconciliation and human rights accountability.
The Secretary-General noted the establishment of the Sri Lanka Commission on Lessons Learned and Reconciliation and indicated to the Minister that he is continuing to work on establishing a Panel of Experts to advise him on the commitment made by the Government of Sri Lanka in this regard.
(For updates you can share with your friends, follow TNN on Facebook, Twitter and Google+)