SLA occupies 80% of agricultural land in North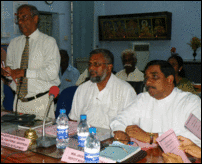 Sri Lanka Army (SLA) occupies around eighty percentage of agricultural land in Vanni and Jaffna peninsula in the name of High Security Zones (HSZs) and releasing this land back to the owners is the prerequisite to any attempt to explore possibilities of agricultural development in the North, representatives of agricultural organizations in Jaffna peninsula told the Deputy Minister of Agriculture, Jegath Pushpakumara, Wednesday in Jaffna Secretariat where he participated in a meeting related to the development activities in the peninsula, sources in Jaffna said.
Deputy Minister Pushpakumara, who is on a two-day official visit to North, had announced in Ki'lonochchi Tuesday that the government is taking steps to reopen the Agricultural Research Centres in Murungkan and Paranthan.
When Pushpakumara spoke on government's plans for agricultural development in Jaffna district in the above meeting the representatives of agricultural organizations appealed to him to first hand over the agricultural lands in the North occupied by SLA to the owners.
Heated arguments and discussion followed the request but the minister did not assure the release of the occupied agricultural lands back to its owners.
TamilNet: 26.05.10 SLA occupies 80% of agricultural land in North
(For updates you can share with your friends, follow TNN on Facebook, Twitter and Google+)