IIFA showbiz event blamed for promoting 'paradise of genocide'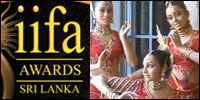 As Tamils world over mark one-year of Indian abetted genocidal war against Eezham Tamils in the island of Sri Lanka, the Hindi film industry known as Bollywood and the major Indian conglomerate of trade unions, Federation of Indian Chambers of Commerce & Industry (FICCI) are joining hands with Rajapaksa regime in Colombo in staging 11th International Indian Film Academy (IIFA) awards weekend during the first week of June in Colombo. The FICCI, the largest and oldest business conglomerate of India is the flagship organiser of the business event named FICCI-IIFA Global Business Forum, where hundreds of CEOs and business heads from India would be signing various investment contracts and tie-ups in the island on the second day of the celebrity and corporate event.
Sri Lanka is to spend USD 9 million for the Awards ceremony and associated events. Colombo expects a return of investment of USD 126 million, said a report filed by Eye TV India Bureau.
The IIFA Awards is a showbiz move, which is watched by 600 million TV viewers in 110 nations, according to organizers.
While big businesses involving States and multinational corporations (MNCs) are discussed at high-level meetings without much publicity, businesses involving the middle class and tourism industry depend on showbiz.
The FICCI, known for its lobby strength and expert consulting, has found the so-called post-conflict Sri Lanka an attractive country to promote Indian businesses.
The Indian move has sparked protests from Tamils in Tamil Nadu, Mumbai and the diaspora.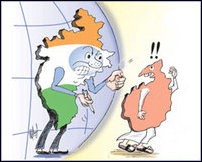 The decision to announce Colombo as the venue for IIFA-Weekend was influenced through FICCI and Wizcraft International Entertainment Pvt. Ltd., the company behind the showbiz, at top level, according to informed sources.
Members of the IIFA Advisory Board have declared Toronto as the venue in 2011 already in December 2009, but delayed to reveal the venue for IIFA 2010 till April 2010. Abu Dhabi and Seoul had been earlier mentioned as venues competing to conduct the mega event.
Salman Khan, a prominent Hindi actor, who was invited to be the brand ambassador of the IIFA Charity Initiative, made the announcement of the venue by saying that he was to build 100 houses in Jaffna for Tamil refugees with his 'Being Human' foundation and was named as ambassador of change. Hand for Habitat and UNICEF were also mentioned as cooperating humanitarian agencies during the announcement.
Another 'interesting' feature announced is the IIFA Foundation Celebrity Cricket Match, to be held between Indian celebrities and 'Sri Lankan' cricketers. The cricket match, to be held on June 4, has been profiled as 'cricket for change' to collect funds to rehabilitate former child soldiers. The duo turned foes of Bollywood, Salman Khan and Shahrukh Khan, are to play together in the cricket match.
The IIFA showbiz event, started 10 years ago targeting Indians living abroad, has emerged as a strategic tool to promote Indian businesses abroad. It is also viewed as a mega event of 'Bollywood', a term popularly used for Hindi-language film industry and incorrectly used to refer to the whole of Indian cinema.
According to its website, FICCI, which describes itself as a non-government, not-for-profit organisation, FICCI claims it is working closely with the Indian government on policy issues.
FICCI form partnerships with countries across the world in the initiatives in "inclusive development, which encompass health, education, livelihood, governance, skill development," says the conglomerate of the chambers of commerce of Corporate India, adding that it functions as "the first port of call for Indian industry and the international business community."
Following the Free Trade Agreement (FTA) between India and Sri Lanka, fully implemented in March 2008, FICCI reported in May 2008, that the FTA had already quadrupled trade to 2.7 billion dollars between the two countries in the period during 2000-08. FTAs are agreements between countries under which they accord bilateral preferential treatment in the areas of imports, exports and investments.
The Indian Establishment, locked in a corporate race with China, has been pushing Colombo to finalise the Comprehensive Economic Partnership Agreement (CEPA), which it wants signed when Mahinda Rajapaksa visits India on June 8, scheduled after the IIFA-Weekend.
FICCI-IIFA Global Business Forum is a "dynamic global platform providing the industry with an opportunity to deliberate on a diverse range of business, bilateral economic and political issues," according to IIFA website.
The FICCI has direct membership from the private as well as public sectors, including SMEs and MNCs, and an indirect membership of over 83,000 companies from regional chambers of commerce.
Sri Lanka is today India's largest trading partner in SAARC.
During the peace talks between Colombo and the Tigers, Indian Oil (IOC), the largest commercial enterprise of India, took over China Bay Tank farm of World War II vintage in Trincomalee. "The tank-farm connects to the Trincomalee harbour, which is the 5th largest all-weather, non-tidal natural harbour in the world, with a 56 km shoreline, making this tank farm most effective for fuel receipt, storage and supply," according to Lanka IOC (LIOC), which is a wholly owned subsidiary of the IOC, which is a Fortune 500 Company. The LIOC, established in 2003, is today the only private oil company other than the state-owned Ceylon Petroleum Corporation (CPC) that operates retail petrol / diesel stations in the island.
National Thermal Power Company (NTPC) of the Indian State and the Ceylon Electricity Board (CEB) of the Sri Lankan State, in 2006, signed agreements to explore a coal-fired power plant project in Trincomalee and the project became 'feasible' after evicting Tamils from their traditional village of Champoor in Trincomalee after capturing Champoor from the LTTE and engineering the exodus of more than 30,000 Tamils from the region.
Today, a vast area remains sealed and fenced off from the access of uprooted Tamil civilians who are forced live in schools under military subjugation and deteriorating conditions like the civilians of Vanni.
A Sri Lanka Army officer, who went on a campaign in January, was confronted by an old Tamil grandfather, who asked: "Would you buy me and my family a house for resettlement from the country to which you sold my land?" No-one of the young generation could dare to pose a such question as the result would be inquiry, detention and possible disappearance. Such is the Tamil subjugation, caused by the greed of Corporate Colonialism, felt in the East.
In the North, two Indian companies have got contracts to re-build the railway line from Omanthai to Kankesanturai (KKS).
Sri Lankan defence ministry in April reported that renovation work has commenced to revive the KKS Cement Factory. "Preliminary steps have been completed under the directive of the pioneer of the Uthuru Vasanthaya program on the guidance of President Mahinda Rajapaksa and Defence Secretary Gotabaya Rajapaksa," the report said.
"Six Indian firms, six Chinese firms and four top local players among about 32 firms applied to the Treasury about five months ago, but with the elections underway, the review process has got delayed," Sunday Times had reported in March.
Ramco India, the Birla Group India, Shanghi Cement India and Cement Italia were the known companies competing for contracts of the KKS Cement Factory. One of the Indian companies has been provided the contract, according to latest reports.
Larson & Toubro, a multinational conglomerate company known as L&T headquartered in Mumbai, Omaxe Ltd, a civil construction and contracting company and Puravankara Projects Ltd, a leading real estate developer in India, have been seeking projects in the island, including North & East.
It is under this circumstances, the Hindi film industry is being blamed for promoting Indian corporate interests in Colombo.
On April 20, popular Indian star Amitabh Bachchan visited Colombo as Brand Ambassador of IIFA to organise the event, during which a twenty / 20 cricket match between Bollywood stars and Sri Lankan film and cricketing stars is also being planned. The megastar, also known as Big B, paid a courtesy call on Sri Lankan President Mahinda Rajapaksa, during his visit.
Tamil film industry in Tamil Nadu is seriously considering non-cooperation with the Bollywood film industry, said activists in Chennai, urging Tamils in the diaspora to exert pressure on Bollywood market overseas.
Meanwhile, Tamil diaspora filmmakers engaged in organising a web portal for Eezham Tamil artists from film industry (EelamCinema) on Thursday said they had mobilised 29 Eezham Tamil diaspora film producers and organisations in Europe and Canada to express solidarity with three Tamil film industry bodies in Tamil Nadu, the Film Employees Federation of South India (FEFSI) headed by V.C. Kuganathan, South India Film Actors Association, led by Sarathkumar and Radha Ravi, and Tamil Film Producers' Association headed by Ramanarayanan. A Tamil lyricist Tamarai played a crucial role in mobilising the associations of Tamil film industry.
PDF: Tamil letter from Eelam Cinema artists to Tamil Nadu film industry organisations
Country Councils of Eezham Tamils in Norway and Switzerland, both elected by popular vote, and Canadian Tamil Congress have already condemned the Indian move as Tamils world over observe May Remembrance one-year anniversary of thousands killed during the last stages of war in Vanni last year.
From Tamil Nadu, Mr. Thirumurugan of May 17 Movement urged the Tamil Diaspora, particularly those living in the UK where Bollywood films have a commercial value, to act before it is too late. "Convincing the fellow humanity of the multi-cultural South Asian community in UK to send a bold message to the IIFA organizers in Mumbai," was equally important to that of the pressure being exerted from Tamil Nadu he said.
Tamil activists in Tamil Nadu, including Vaiko, Nedumaran and Seeman, have been vocal in their protests against the Bollywood event.
On May 08, Save Tamils, an activist group of Tamil IT professionals held a protest in front of Chennai Memorial Hall against the Bollywood move. Tamil lyricist Tamarai, Directors Gowtham, Ram, Vetrimaaran, Thileepan Movement Thiyagu, Viduthalai Rajendran and Professor Arivarasan took part in the protest.
Naam Tamilar movement has staged a fasting campaign and marched from Big B's 'Pratiksha' bungalow to his 'Jalsa' residence in Mumbai on May 11, protesting against the decision to hold the IIFA Awards Festival in Colombo. Naam Thamilar protestors said the move by Hindi cinema world would be seen as giving legitimacy to Rajapaksa regime, which is responsible for Tamil genocide and war crimes in the island.
Popular stars in the Tamil film industry, Rajnikanth, Kamal Hassan, Vijay, Ajith and Surya, have reportedly declined to take part in the IIFA.
Mani Ratnam, a popular Tamil film director and film-maker, has also announced that his 'Raavan', starring Abhishek Bachchan and former Miss World Aishwarya Rai, will not be screened at the IIFA awards, citing that the film was not complete. The film is a loose adaptation of the Hindu epic Ramayana, which portrays Ravana, the Tamil king of ancient Lanka, as the abductor of the wife of Lord Rama, who was based in North India.
(For updates you can share with your friends, follow TNN on Facebook, Twitter and Google+)