Journalists, NGOs unsettle Peiris's US visit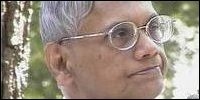 While Tamil demonstrators plan to protest in front of the State Department during Sri Lanka's Minister of External Affairs Gamini Lakshman Peiris's meeting with U.S. Secretary of State Hilary Clinton Friday, reports covering Peiris's US visit indicate an uncomfortable minister facing hostile press and questioners, and the resulting damage to the Minister's mission to block UN and US acting on the war-crimes call by several NGOs. Human Rights Watch, Amnesty, International Crisis Group and Elders this week, had called for an independent international war crimes investigation in Sri Lanka. Minister Peiris has been taking pre-emptive steps, unprecedented for a visiting Minister, to avoid facing serious journalists who have been covering Sri Lanka's war and the conduct of the protagonists during the last months of the war.
Tejinder Singh, Chair of the National Press Club (NPC) Newsmakers Committee reported that "Minister Peiris left a scheduled meeting with journalists at the National Press Club Thursday morning without speaking.
"He [Minister Peiris] had been slated to address them [NPC] as a precursor to his Friday meeting with Secretary of State Hillary Clinton. Peiris arrived at the building with a Secret Service security detail, but left without explanation after going to the 14th floor where he was to speak," Singh said in his report.
Daily Mirror quoted a Sri Lanka Foreign Ministry officials as saying, that he suspects "there may have been a last minute conflict of interest with the organizers of the event which forced the Minister to reconsider addressing the event. It's anyway too early to speculate what may have taken place."
No reason for his departure was given by his spokesman, but the National Press Club recently awarded the organization's 2009 International Freedom of the Press Award to slain Sri Lankan journalist Lasantha Wickramatunga, editor of the Sunday Leader.
"At the UN, rather than hold an open press conference as the foreign ministers of such countries as Georgia and Iran and Indonesia do, the Sri Lankan Mission to the UN invited specific individual journalists, many of whom had never written about Sri Lanka, to meet and even wine and dine with Peiris," Matthew Lee of Inner City Press (ICP) who covers UN, said in his regular report.
ICP also said that Sri Lanka Mission refuses to answer questions posed to Peiris, about reports of war crimes by the Rajapaksa government he represents.
Commenting on the talk Mr Peiris gave at the Washington think-tank CSIS, Amnesty reported in Huffington Post, "Sri Lanka's commissions of inquiry are a guarantee that there will be no justice and accountability for serious human rights abuses. Since 1991, the Sri Lankan government has formed nine ad hoc commissions of inquiry to investigate enforced disappearances and a number of other human rights-related inquiries. These commissions of inquiry have lacked credibility and have delayed criminal investigations. While most, if not all, of these commissions of inquiry identified alleged perpetrators, very few prosecutions for human rights violations have resulted.
"[T]he minister stubbornly refused to answer my question about the human rights impact of the most recent presidential commission of inquiry (established in 2006) into several high level human rights cases, including the execution style murder of 17 aid workers of the French organization Action Contre la Faim (ACF). He had no answer to the question of how many individuals were actually tried as a consequence of the work of the commission, or why the findings that were sent to the President have not been made public to this day," Amnesty International said.
"We don't want Amnesty International telling us what to do. We will take it from the Security Council…," Minister reportedly retorted at the Amnesty questions.
pdf: US State Department Report
The Amnesty report added, "US Secretary of State Hillary Clinton will be the next high-level politician who will have an opportunity to raise these concerns, when she will meet her Sri Lankan counterpart in Washington this Friday. She will have the unique opportunity to reinforce the State Department's own efforts to shed light on the human rights abuses committed during the final stage of the conflict and to send a strong signal to the world that the United States is not willing to accept impunity for mass human rights abuses. We will follow very closely if indeed she does."
(For updates you can share with your friends, follow TNN on Facebook, Twitter and Google+)