Sri Lanka president rejects war crimes probe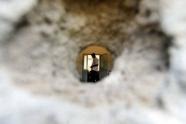 Sri Lanka President Mahinda Rajapakse has rejected international calls for a war crimes probe into the final offensive against Tamil Tiger rebels last year.
In an interview with the Al-Jazeera television news network on Thursday, Rajapakse said he would not tolerate any outside review of a campaign that he insisted was solely aimed at "defeating terrorism".
"I don't want my internal matters to be inquired by any other country or any other NGOs. We will look after that," Rajapakse said.
A transcript of the interview was released by the president's office on Friday.
Rajapakse stressed that security forces had not targeted Tamil civilians and insisted that no non-combatants were killed. He added, however, that he was prepared to punish anyone found guilty of excesses.
Government forces defeated the rebel Liberation Tigers of Tamil Eelam (LTTE) by wiping out its top leadership on May 18 last year, ending a 37-year-old separatist struggle.
Sri Lanka has been under pressure to submit to an international investigation after the United Nations reported that at least 7,000 civilians perished in the final months of fighting.
"Be fair with us … be fair with us … don't treat Sri Lanka like this because we defeated terrorism," Rajapakse said.
(For updates you can share with your friends, follow TNN on Facebook, Twitter and Google+)