Sinhala names given to junctions in Mullaiththeevu district by SLA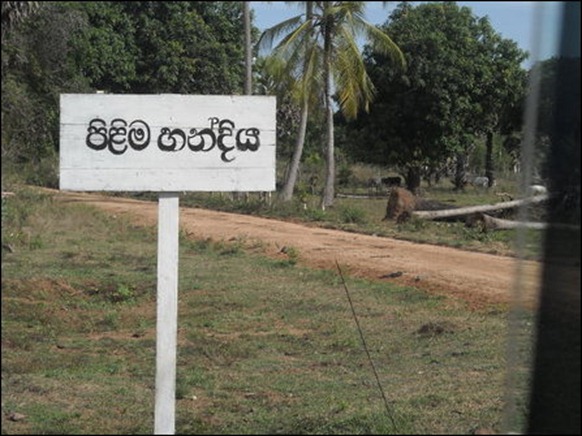 Sri Lanka Army (SLA) forces that occupy Vanni after the recent war have put up new name boards in Sinhala language only with new Sinhala names for many road junctions and streets in Mullaiththeevu district. SLA, besides erecting special camps and High Security Zones in strategic places in Mullaiththeevu, is engaged in changing the entire district like any other typical Sinhalese area in the country, sources in Vanni said. The photos here were taken a few weeks ago and the SLA soldiers posted at the junctions explained what the Sinhala names mean and why they had been chosen.
The junction adjoining Thaanthontri Easvaran Koayil (Temple of Lord Siva) at Oddichuddaan junction where the road from Maangku'lam to Mullaiththeevu, is met by the road from Nedungkea'ni is given the new Sinhala name, 'Pilima Hanthiya', meaning 'Statue Junction'. SLA soldiers said that a Buddha statue is to be soon erected at this junction and hence the Sinhala name, 'Pilima Junction'.
The Sivan temple in Odduchuddan, the pond in front of it and the adjoining school have luckily escaped destruction and remain almost in the same condition with minor damages, the sources said.
Resettled families live in Odduchchuddaan which is occupied by a large number of SLA forces.
Another junction in Odduchuddaan where the road from Puththukkudiyiruppu meets Mullaiththeevu-Maangku'lam road has been given the Sinhala name, 'Kaar Hanthiya', meaning 'car junction'.
The name had been given as many cars had been set ablaze at this junction by SLA during the war.
Meanwhile, the road which branches off Mullaiththeevu-Maangku'lam road to Puthukkudiyiruppu through Vattaappazhai and Keapaapilavu, close to the Nanththikkadal (Nanthi Lagoon) Bridges has been named, 'Ali Hanthiya', 'Elephant Junction', because an elephant had died at the junction, according to SLA soldiers at the junction.
Former Jaffna MP Selvaraja Kajendren had said in the first week of May that the Sri Lankan government has planned a large Buddhist Vihara at the entrance of Mullaiththeevu town at Karaichchikkudiyiruppu, 150 meters near the Kachcheari building.
The government is spending millions in construction of the Buddhist temple and in constructing at least two memorial sites for Sri Lanka Army commanders killed in action, while the Tamil civilians are not provided with meaningful aid for resettlement, Mr. Kajendren told media.
The Buddhist Vihara is planned to be raised in state-owned land, informed sources further said adding that papers have been submitted to the District Secretariat of Mullaiththeevu seeking permission to construct the Vihara.
Meanwhile, reliable sources in Vanni said Sinhalese settlers are being brought to coastal strips of Mullaiththeevu district.
(For updates you can share with your friends, follow TNN on Facebook, Twitter and Google+)