Israeli attack on humanitarian convoy sends shock waves across the world
Israeli commandos, dropped from a helicopter onto the main ship of a humanitarian flotilla carrying aid to the besieged Gaza, opened fire killing at least 16 humanitarian workers, 6 of them believed to be Turks and 10 from other countries Monday early morning, under darkness of night, in the international waters off Israel. The activists were fired upon after they beat the commandos with batons, Israel Defence Forces (IDF) said. Despite the explanation, the way Israel has chosen to deal with the humanitarian convoy of six vessels with more than 700 people, including aid workers, politicians, members of parliament, journalists and writers from 40 countries, has sparked widespread protests, anger and international condemnation and has put Israel into diplomatic hot water.
Following video footage is an interview with Ann Wright, a former U.S. diplomat on board Mavi Maramara on 29 May (Courtesy IHH and Newsagency):
Al-Jazeera coverage as Israeli commandos raid the ship
Video by Israeli Defence Force:
Almost 12 hours have passed since the tragic incident, but the Israeli government is yet to release the names of the killed and the wounded.
The attack has taken place 75 miles off the coast of Israel in the International waters.
An Al-Jazeera correspondent on board said the Israeli commanders were firing despite a white flag of surrender had been raised.
The captain of the ship is reportedly wounded in the Israeli attack.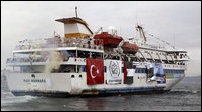 The European Union has condemned the attack as "unacceptable". Several countries have summoned the Israeli diplomatic missions in their countries. Many others, across the globe, have demanded full inquiry.
"We as elders condemn Israel utterly for this attack. The actions of the Israelis is inexcusable," said Anglican Archbishop Emeritus Desmond Tutu urging world's attention on "terrible suffering of Gaza's 1.5 million people, half of whom are children under the age of 18."
The Free Gaza Movement, European Campaign to End the Siege of Gaza (ECESG), Insani Yardim Vakfi (IHH), the Perdana Global Peace Organisation , Ship to Gaza Greece, Ship to Gaza Sweden, and the International Committee to Lift the Siege on Gaza appealed to the global community to act in order to complete the mission in delivering vitally needed aid to the imprisoned Palestinians of Gaza.
The coalition of Free Gaza Movement said Monday evening that it would continue to carry on similar missions in future. "We will not stop. We will go again," the movement said.
(For updates you can share with your friends, follow TNN on Facebook, Twitter and Google+)