male corpses exhumed from toilet pit in Ki'linochchi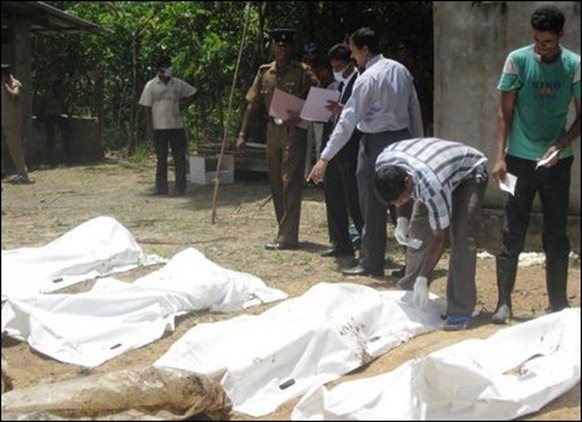 Five male bodies estimated to be between 20 to 35 years of age, in highly decomposed state and packed securely in five separate bags were exhumed from the toilet pit of a house in Ka'neasapuram in Ki'linochchi under the supervision of Vavuniyaa Judicial Medical Officer (JMO) Dr. P. Sritharan and in the presence of Ki'linochchi magistrate Monday morning, sources in Ki'linochchi said. Some of the bodies had clothes with Tiger stripes, some in Lamb Black uniforms used by Sri Lanka Army (SLA) and some in ordinary civilian dress, the sources added.
The victims may have been killed a year ago, according to JMO.
It was not immediately possible to learn how the victims had been killed as the corpses were in a highly decomposed state.
According to the Sri Lankan police, packing of the bodies in separate bags and the systematic burial of them gave room to suspect that those who buried the bodies may have intended to take them out again for purposes unknown.
However, residents in the area, who said there were bandages attached to the corpses indicating injuries alluded that the victims could have been wounded LTTE cadres and civilian captives slain by the SLA.
Many personnel of SLA Intelligence Division and soldiers were present at the site of exhumation which was carried out from 9:00 to 11:30 a.m under tight security arrangement.
The bodies were taken to Vavuniyaa Government Hospital for post mortem examinations.
Members of a family recently resettled in Ka'neasapuram in Ki'iinochchi after being displaced from their house, located Saturday dead bodies of massacred victims, buried inside their toilet pit. The house is located 1 km west of A9 in Ki'linochchi.
(For updates you can share with your friends, follow TNN on Facebook, Twitter and Google+)