At UN, Flotilla Meetings with Ban, Iran Sanctions Said to Proceed, Tamale Diplomacy
The question of who will do the investigation of the assault on the flotilla to Gaza, called for in the UN Security Council Presidential Statement adopted after 12 hours of meetings on Memorial Day, will be discussed if not determined at the UN on June 2.
Secretary General Ban Ki-moon will meet with the Ambassadors of Israel and Turkey and with the Arab Group. Then he will meet with the Permanent Five members of the Council. Ban's office has asked UN communications personnel to be ready for a stakeout appearance at 5 p.m. on June 2. But of course that could be canceled.
Outside the Council chamber on morning of June 2, Inner City Press asked Ambassadors and diplomats about who will do the investigation. Council president Claude Heller of Mexico joked back: "you!" The sense is that at least one of the non-US Western P-5 members did not hold out for the word "independent" being in the PRST; this member seems to think that Hillary Clinton has moved toward the UN doing in the investigation.
   "Let Americans speak for America," Inner City Press was told when seeking confirmation. And the Turks, clearly, are unhappy with the Obama administration's positions.
This includes the US position in pushing for Iran sanctions despite the Brazilian and Turkish deal with Iran on "confidence building measures" around the Tehran Research Reactor's uranium. On that, a well placed Council source told Inner City Press that only yesterday another meeting of the 15 members' experts took place.
  Turkey and Brazil were "present but not engaged." The P-5 has yet to share any annex with the non Permanent members. Still and all, more than one Council member predicted the adoption of Iran sanctions in two weeks or so.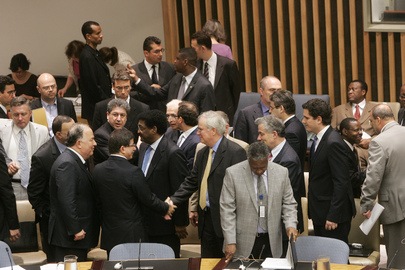 On flotilla Memorial Day, scrum, meetings with Ban not shown
The Council meeting Wednesday morning was to adopt the month's program of work. It includes a Council retreat in Istanbul, from June 24 through 26, and perhaps a trip to Afghanistan before that. The UN's top humanitarian John Holmes will brief the Council about Chad and Sudan on June 3, then the Press on those topics and others the next day.
(For updates you can share with your friends, follow TNN on Facebook, Twitter and Google+)