Bishop's House appeals to Vatican to urge Colombo to renovate Vanni churches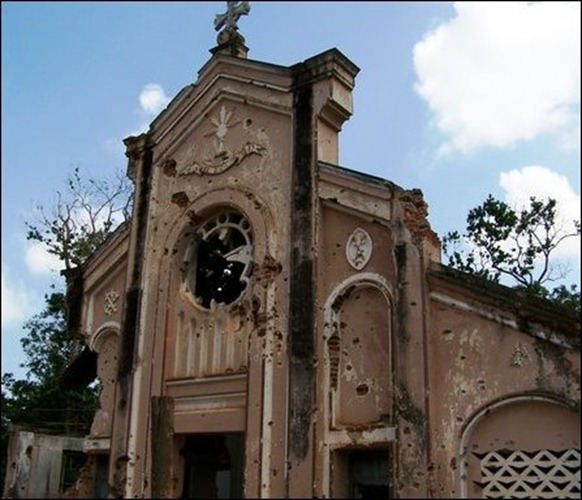 Jaffna Bishop House sent an appeal to the Holy See in Vatican to urge Sri Lanka government to renovate and restore the churches in Vanni destroyed or badly damaged during the war on Vanni, sources in Jaffna said. No one except Jaffna Bishop had been permitted by Sri Lanka Army (SLA) in Vanni to see the churches in Vanni after the war and Jaffna Bishop, Rt. Rev. Thomas Saundranayagam, had been greatly shocked and distressed to find the churches destroyed and plundered, Bishop House circles said. Meanwhile, Sri Lanka government has announced financial aid for renovating the churches in Vanni where people have been allowed to resettle.
Jaffna Bishop has emphasized in his appeal to the Holy Pope the need for the clergy to be allowed to go the churches in Vanni and to at least start the preliminary renovation work of the churches immediately.
Jaffna Bishop, shocked on seeing the churches severely damaged or totally destroyed in war, was further shaken to find them plundered with most of the holy statues in the churches reduced to pieces or removed.
The Bishop has appealed to the Holy See to conduct talks with the Sri Lanka government to expedite the renovation of destructed churches in Vanni.
Historically famous Mullaiththeevu St. Joseph Church has been completely destroyed with the holy statue, thrown out of its enclosed pedestal, lying abandoned on the floor, Bishop House sources said.
Besides, the tiles and other similar properties of the church had been pilfered, they added.
(For updates you can share with your friends, follow TNN on Facebook, Twitter and Google+)